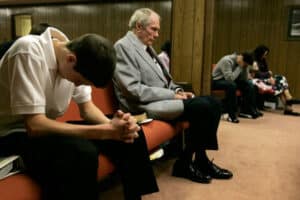 TOPEKA, Kan. — The Rev. Fred Phelps, the virulently antigay preacher who drew wide, scornful attention for staging demonstrations at military funerals as a way to proclaim his belief that God is punishing America for its tolerance of homosexuality, died here on Wednesday. He was 84.
The Westboro Baptist Church confirmed the death, declaring on one of its websites, "Fred W. Phelps Sr. has gone the way of all flesh." The church did not give a cause of death, but Mr. Phelps had been living under hospice care.
Mr. Phelps, who founded and led Westboro Baptist, a small, independent church in Topeka, was a much-loathed figure at the fringe of the American religious scene, denounced across the theological and political spectrum for his beliefs, his language, and his tactics.
His congregation, which claims to have staged tens of thousands of demonstrations, is made up almost entirely of his family members, many of whom lived together in a small Topeka compound. However, in recent years, some of his children and grandchildren had broken with the group.
A disbarred civil rights lawyer who had once been honored by the N.A.A.C.P. and who ran for office repeatedly and unsuccessfully, as a Democrat, Mr. Phelps seemed to accept the criticism if not relish it.
"If I had nobody mad at me," he told The Wichita Eagle in 2006, "what right would I have to claim that I was preaching the Gospel?"
He believed that the United States was beyond saving, and he devoted his life to traveling with a small band of protesters to highlight what he saw as America's sinfulness and damnation.
"The way to prove you love thy neighbor is to warn them they're sinning," he told the central Pennsylvania newspaper The Patriot-News in 2004. "You're not going to get nowhere with that slop that 'God loves you,' " he added. "That's a diabolical lie from hell without a biblical warrant."
His church's website maintains a running tally of "people whom God has cast into hell since you loaded this page."
He was highly litigious and employed crude language to call attention to his cause. (The slogan "God Hates Fags" appeared on the church's picket signs and remained in its web address.) He sued President Ronald Reagan for establishing diplomatic relations with the Vatican, denounced the Rev. Jerry Falwell, who called Mr. Phelps a "first-class nut,"; and picketed the funerals of Al Gore's father and Bill Clinton's mother.
Mr. Phelps's picketing began in 1991 as an outgrowth of his dissatisfaction with Topeka's response to his complaint that gay men were using a park near his home for "indecent conduct." His antigay effort at the park was followed by protests of funerals of people who had died of AIDS and then multiple local churches that he criticized as tolerant of homosexuality.
In 1998, he explained his view of a wrathful God in an interview with The Houston Chronicle.
"You can't believe the Bible without believing that God hates people," he said. "It's pure nonsense to say that God loves the sinner but hates the sin. He hates sin, and he hates the sinner. So he sends them to hell. Do you think he loves the people in hell?"
Later that year, he attracted global attention and condemnation when he picketed the funeral of Matthew Shepard, the gay Wyoming college student whose beating death led to a national debate over hate crimes.