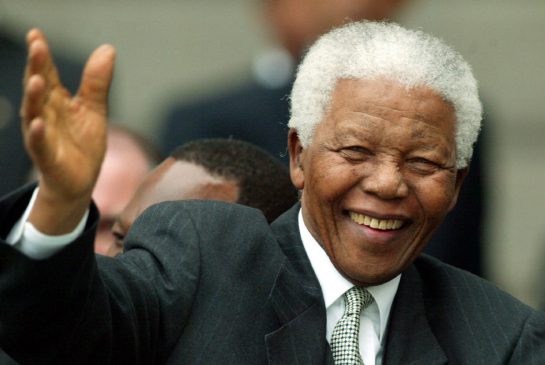 Nelson Mandela has died, South African President Jacob Zuma has said.
South Africa's anti-apartheid icon died peacefully at his Johannesburg home on Thursday after a prolonged lung infection, Zuma announced in a nationally-televised address.
"Fellow South Africans, our beloved Nelson Rohlihla Mandela, the founding president of our democratic nation, has departed," Zuma said.
"Our people have lost a father. Although we knew this day was going to come, nothing can diminish our sense of a profound and enduring loss. His tireless struggle for freedom earned him the respect of the world. His humility, passion and humanity, earned him their love."
Zuma ordered flags to be flown at half mast and said South Africa's first black president would be given a full state funeral.
In a live address from the White House, United States president Barack Obama expressed his condolences to Mandela's family.
He spoke of Mandela's far-reaching impact, including on his own life; Obama recalled studying Mandela's writings and how the first thing he "ever did that involved an issue or policy or politics was protest against apartheid."
"Today he's gone home and we've lost one of the most influential, courageous, profoundly good human beings that any of us will share time with on this earth," Obama said in a brief and solemn address.
"He no longer belongs to us. He belongs to the ages."
Shortly after the news broke, Prime Minister Stephen Harper also tweeted that "all of Canada mourns with the family of Nelson Mandela and the citizens of South Africa"
"The world has lost one of its great moral leaders," the tweet said.
Mandela was hospitalized three times earlier this year. Each hospital stay was feared to be his last and family, political supporters, South Africans and millions of admirers around the world prayed that he would rally and recover.
But Mandela was 95, frail and suffering from medical conditions partly brought on by harsh conditions of prison where he was held for 27 years because of anti-apartheid activities.
On March 8, Mandela spent one night in hospital for a medical checkup and returned to his Houghton, Johannesburg home. President Jacob Zuma wished "Madiba," as he is affectionately known in South Africa, a speedy recovery.
But on March 27 Mandela went back to hospital to be treated for a persistent lung infection, a complication of the tuberculosis he contracted in jail in 1988. The former South African president was allowed to go home on April 6.
A short time later Zuma was accused of political opportunism when the state broadcaster, the South African Broadcasting Corporation, showed footage of the smiling president at the leader's house, holding the hand of an unresponsive and clearly fragile Mandela. High-ranking political delegates laughed and joked as cameras flashed. Mandela had always asked cameramen not to use flash photography because his eyes were permanently damaged from being forced to dig in a lime quarry in the bright sunlight when he was at the Robben Island jail, according to his autobiography Long Walk To Freedom.
On June 8, the Nobel laureate was taken to the Mediclinic Heart Hospital. CBS News reported that the ambulance which picked up Mandela at his home in Johannesburg broke down, forcing him to wait on a highway for 40 minutes before another vehicle arrived to take him on the 50-kilometre journey to the Pretoria hospital. He suffered cardiac arrest, CBS reported. But Zuma responded in a statement that at no point was Mandela at risk and denied the report of cardiac arrest.
The ensuing weeks were fraught with controversy and tension as conflicting reports emerged about the state of his health. For a while his condition was described as serious but stable. There was even speculation he would be released. On June 20, former president Thabo Mbeki, who succeeded Mandela in 1999, told a radio station in South Africa that he was "improving."
"I think we really need to feel comforted that we still have him with us now," he said.
But over the weekend of June 22 and 23, Mandela's condition deteriorated dramatically to "critical," presidential spokesman Mac Maharaj told the BBC World Service.
"Over the past 24 hours doctors have said there is a decline and have described that as critical and distinct from previous conditions which were serious," he said. But Maharaj gave few details, citing doctor-patient confidentiality.
As well-wishers and supporters gathered outside the hospital to pray and light candles and the international media descended to cover an important historic event, the Mandela family pleaded for privacy – unlikely to be given to such an iconic and globally revered figure.
The pressure took its toll. His eldest daughter Dr. Makaziwe Mandela, an anthropologist lashed out on SABC on June 27, accusing foreign journalists of racism and behaving like "vultures waiting to devour the last carcass."
"There is a sort of racist element with many of the foreign media," she said, comparing the coverage with the death of British prime minister Margaret Thatcher.
"As a family, as an African you have to be peaceful and have a sense of decorum at this time," she said. "When Margaret Thatcher was in hospital I didn't see this kind of media frenzy…is it because we are in an African country people believe they can't respect any laws of this country?"
His widow Graca Machel was more conciliatory, and issued a rare statement on June 17 thanking the public for their support.
"The messages have come by letter, by SMS, by phone, by Twitter, by Facebook, by email, cards, flowers and the human voice, in particular the voices of children in schools or singing outside our home," she said. "We have felt the closeness of the world and the deepest meaning of strength and peace."
Mandela also missed last Christmas with his family because of a three-week stay in hospital to have gallstones removed from his bladder and receive treatment for pneumonia.
Some criticized the medical attention to prolong his life. A former bodyguard Shaun Van Heerden told CBS News that he was "hardly there" and his "memory was gone."
"He would sit there and fall asleep, like any elderly person will do. But the interaction with other human beings was not there," he said.
But Makaziwe Mandela voiced her anger at suggestions to "release him" as she put it.
"In our culture, the Tembu culture, you never release the person unless the person has told you: 'Please my children, my family, release me,'" she told CNN on June 24. "My dad hasn't said that to us. So these people who want to talk about, you know, release him, he hasn't said we should release him and we haven't come to the end yet. It is only God who knows the end."