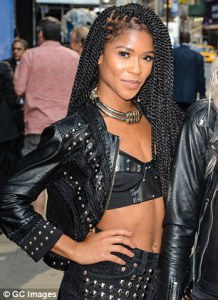 Pop singer Simone Battle died Friday morning at her home in Los Angeles, MailOnline has confirmed.
The 25-year-old G.R.L. group singer and former X Factor contestant were found dead around 8 am, her father Anthony E Battle told MailOnline.
'She will be greatly missed and loved,' Mr. Battle said. 'She was an exuberant person and a very loved person.'
He says the death is still under investigation, but law enforcement sources told TMZ it was an apparent suicide.
Today, Battle's record company and management issued a joint statement on her passing.
'We are deeply saddened by the tragic loss of Simone Battle of G.R.L.' the statement from Reign Deer Entertainment, Kemosabe Records, RCA Records, and Pussycat Dolls founder Robin Antin reads.
'Simone was an exceptional young talent and human being, and we are all devastated to learn of her passing. Our thoughts and prayers are with her family and loved ones at this time.'
A friend and fellow musician, Derek Butler, initially broke the news overnight on Instagram.
Butler posted a picture of Battle and wrote: 'I'm still in shock and in disbelief to have confirmed the death of my childhood friend.
'Her heart was pure gold and her star power limitless. Rest in sweet peace, Angel.'
At the time of her death, Battle was singing in the girl group G.R.L. which was initially organized as a re-boot of The Pussycat Dolls group.
However, the group decided to go by a different name and launch as a second band generation.
The remaining members stated her death on Saturday via Twitter.
'Words cannot express the depth of our loss. The size of her heart only surpassed Simone's incredible talent.
'We will carry her memory with us in everything we do.'
Battle first started singing professionally after her breakout on the U.S. version of The X Factor in 2011.
She made it to the top 17 and was mentored by judge Simon Cowell.
Calls to the Los Angeles Police Department were not immediately returned Saturday morning.