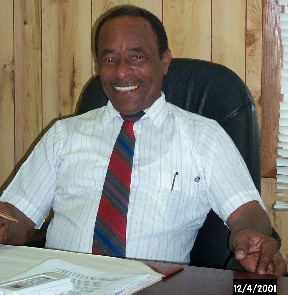 BRADES, Montserrat – Montserrat is once again in mourning at the news that former Chief Minister John A. Osborne has passed away.
On Sunday morning, Osborne's daughter Shirley Osborne sent a statement from the family announcing his passing.
"John A. Osborne, the father with whom we have shared the most intense love and affection, has died. He left us peacefully early Sunday morning. We have lost the irreplaceable centre of our family and an incomparable presence in all our lives, but his wisdom, courage, and irrepressible spirit will live with us forever," the statement read.
The former chief minister had been in hospital in the United States for the past several months. There has been no official word as to plans for his burial although he is to be honored with a full state funeral.
In November 2009, the late chief minister was honored for his years of service as a politician and member of the Legislative Council. John A. Osborne was Montserrat's longest serving statesman with a career that spanned 38 years in the Legislative Council.
In 2005, the airport was renamed the John A. Osborne Airport in tribute to his legacy of service to the people of Montserrat. He first became chief minister in 1978 as a member of the People's Liberation Movement and continued until losing the elections in 1991. He then went on to serve again as chief minister from April 5 2001 until June 3, 2006 when he resigned after his party lost the elections.
Former Chief Minister of Montserrat John A. Osborne was 75. He leaves to mourn a wife and several children, including Parliamentary Secretary David Osborne.