Allan Arnold Guye Dominica, former Health Minister, died.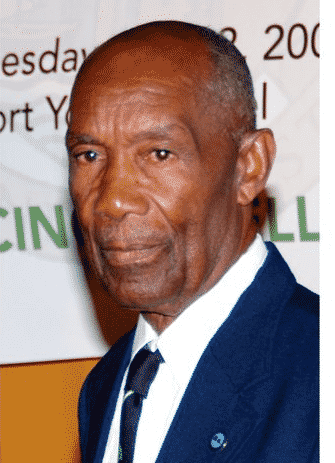 Roseau, Dominica – Wednesday, August 26, 2015 – The Government of Dominica afforded the late Allan Arnold Guye an Official Funeral on Friday, August 28, 2015. The Government of Dominica has declared Friday, August 28, 2015, an official day of mourning as a mark of respect for the late Allan Guye, former Minister for Health and Social Security.
The Dominican flag will be flown at half-staff on all public buildings in the state on the day of mourning, Friday, August 28, 2015.
On July 1, 1985, Allan Guye was elected Parliamentary Representative for the Roseau North Constituency and was re-elected on May 28, 1990, General Elections as a candidate for the Dominica Freedom Party. On August 1, 1985, he was appointed Parliamentary Secretary in Community Development, Housing, and Social Affairs. On June 1, 2015, he was appointed Minister for Health and Social Security, which he held until June 1995.
Allan Guye served as Chairman of the Dominica Freedom Party from 1985 to 1990. He was Deputy-Chairman of the Save the Children Fund 9CANSAVE) Vice President of the Dominica Council on Aging.
An avid player of the sport of bridge, Allan Guye was Bridge Player of the year in 2008 at the National Sports Awards. He served as treasurer of the Dominica Bridge Association and represented Dominica at several regional tournaments.
Allan Guye was born in Pottersville on August 28, 1929. He attended the Roseau Mixed School and later the Saint Mary's Academy. He obtained a Diploma in Agriculture from the Institute of Agriculture and Forestry in Trinidad and Tobago. He is survived by his wife Evelyn, eight children, twenty-one grandchildren, and one great-grandchild.
His Excellency, the President Charles Savarin and Mrs. Savarin, Prime Minister the Honourable Roosevelt Skerrit and Mrs. Skerrit, members of Cabinet, Honourable Alix Boyd-Knights, Speaker and other members of Parliament, members of the Diplomatic Corps, and other Government Officials are expected to attend the Official Funeral for the late Allan Arnold Guye.
Public viewing shall be from 2:00 pm at the Goodwill Parish Hall. The Official Funeral Service will commence at 3:00 pm at the St. Alphonsus Catholic Church. The late Allan Guye will be laid to rest at the Roseau Roman Catholic Cemetery. All official mourners are requested to be in their seats no later than 2:45 pm.