EULOGY
ANTHONY FREDERICK JOSEPH
DADDY JOE – DADDY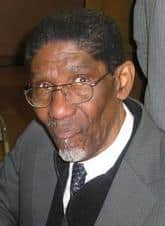 Our father was born to Floyd Joseph and Fanny Thompson in La Plaine but lived most of his earlier life in Roseau single-handedly by his mother, Fanny (Granny).
Upon leaving the Dominica Grammar School, Frederick Joseph worked as a schoolteacher. He moved on to the police force, the DBGA, the Government printer, and the Cathedral printery under the Rev Fr. Huysmans. From all of this prestigious employment and exposure and pursuing a course in Canada, AFJ formed the Dominica Amalgamated Workers` Union (DAWU), predominantly representing banana workers employed with guest/DBGA and workers of H.H.V Whitchurch and National Bank of Dominica. DAWU continues to represent HHV and NBD to this day. His legacy, therefore, lives on.
AFJ married Dora Joseph (same name) in 1955 and had eleven children, six 6) boys and five (5) girls: Jennifer, Myrtle, Dorothy, Francis, Raphael, Leonard, Raymund, Donald, Geraldine (deceased), Denise and Gerard. There are extended family members too, too numerous to mention, in Dominica, St.Thomas, USA, and the UK.
He served with humility as General Secretary of the Dominica Amalgamated Workers Union (DAWU) for many years and a well-respected Senator in the Dominica House of Assembly from 1980 to 1985. He contested the Roseau North Constituency in 1975 as an Independent Candidate. He also utilized his vast knowledge and experience while serving on several Statutory Boards and other civic organizations.
Mr. Joseph was a member of the Dominica Freedom Party and served on its National Executive Committee for several years. He also held the position in the Party as Assistant Secretary/ Treasurer. He will be remembered for his forthright, gentle and strong disposition for honesty, fairness and justice for the workers he represented and his citizens.
From 1980 to 1984, Joseph served as a senator in Parliament, using this opportunity and platform to continue the fight and struggle for the rights of all women. As stated above, Frederick Joseph was an avid and dedicated member of the Dominica Freedom Party, not just because it was ok to be one, but significantly, as he always articulated where for the following reasons:
1.    The honesty and integrity demonstrated by its political leaders, Dame Eugenia Charles
2.    For what the party stood for and represented, meaning putting       "People before Power….
"People before Politics….
People before Privilege and things….."
3.    Promoting good governance, transparency and accountability in office at all times.
He will greatly miss