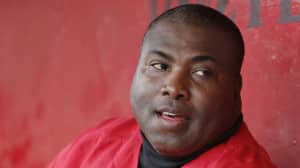 Anthony Keith "Tony" Gwynn, Sr. (May 9, 1960 – June 16, 2014), nicknamed Mr. Padre and Captain Video, was an American professional baseball player who played 20 seasons (1982–2001) in Major League Baseball (MLB) for the San Diego Padres. The left-handed right fielder won eight batting titles, tied for the second-most in MLB history. He is considered one of the best and most consistent hitters in baseball history. He was an 18-time All-Star, recognized for his skills on offense and defense with seven Silver Slugger Awards and five Gold Glove Awards. He was inducted into the Baseball Hall of Fame in 2007, his first year of eligibility.
Gwynn attended college at San Diego State University (SDSU), where he played college baseball and college basketball for the San Diego State Aztecs. The Padres selected him in the 1981 Major League Baseball Draft as the 7th overall pick. Gwynn played in the only two World Series appearances in San Diego's franchise history. He had a .338 career batting average and never hit below .309 in any full season. Gwynn accumulated 3,141 career hits as a contact hitter. His jersey number 19 was retired by the Padres in 2004. He was ahead baseball coach for San Diego State University at the time of his death at 54.
Gwynn died on June 16, 2014, after battling salivary gland cancer.