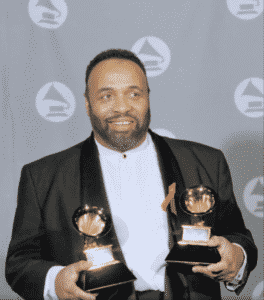 Andraé Crouch, a gospel musician who bridged the worlds of church and mainstream music for more than 50 years, died Thursday afternoon. The 72-year-old singer, songwriter and choir director had been hospitalized since Saturday at Northridge Hospital Medical Center in the Los Angeles area after suffering a heart attack.
Crouch, sometimes called "the father of modern gospel music," led the choirs that sang on such hits as Michael Jackson's Man in the Mirror and Madonna's Like a Prayer. As a songwriter, he wrote several gospel favorites, most notably The Blood Will Never Lose Its Power, My Tribute (To God Be the Glory) and Soon and Very Soon, a song sung at Jackson's public memorial service.
A San Francisco native who grew up in the Church of God in Christ, Crouch wrote his first gospel tune at age 14. By 1960, he had formed the Church of God in Christ Singers, a group that featured Billy Preston on keyboards.
He started another group, Andraé Crouch & the Disciples, in 1965, eventually signing to a contemporary Christian label, Light Records. Crouch brought a contemporary pop and R&B melodic sensibility to gospel, making him uniquely suited to appeal to both black and white audiences during the early days of the countercultural "Jesus movement" and also bringing him attention beyond the church.
Elvis Presley recorded Crouch's I've Got Confidence for his 1972 gospel album He Touched Me, and Paul Simon recorded his Jesus Is the Answer on 1974's Paul Simon in Concert: Live Rhymin'. Crouch also became the go-to vocal arranger for Los Angeles recording sessions that needed a gospel sound, working not only with Jackson and Madonna but also Elton John, Quincy Jones, The Commodores, Diana Ross and Ringo Starr.
http://c.brightcove.com/services/viewer/federated_f9?isSlim=1
Crouch's gospel albums often featured guests from the R&B and jazz worlds, including Stevie Wonder, El DeBarge, Wilton Felder and Earth, Wind & Fire's Philip Bailey. Chaka Khan, Sheila E. and vocal group Take 6 appeared on his most recent album, 2011's The Journey.
His recordings brought him seven Grammys, and Crouch also received an Academy Award nomination for his arranging work on the 1985 film The Color Purple.
Throughout his life, Crouch struggled with dyslexia, sometimes memorizing words by the shapes of their combination of letters. He often drew simple pictures to help him comprehend words and write songs.
Crouch's sister, Sandra Crouch, served as his spokeswoman, and the siblings were pastors at the New Christ Memorial Church in San Fernando, Calif., carrying on a work begun by their parents.
Crouch survived multiple bouts with cancer and also suffered from diabetes. In early December, Crouch was hospitalized with pneumonia and congestive heart failure, forcing the cancelation of his Let the Church Say Amen Celebration tour, which had been scheduled to begin Dec. 6 in Philadelphia. He was re-admitted to the hospital Saturday with what his sister characterized in a statement as "serious health complications."
Andraé Crouch father of modern gospel music
[youtube https://www.youtube.com/watch?v=3q0P-yQiWNw]
Story Source: USAToday