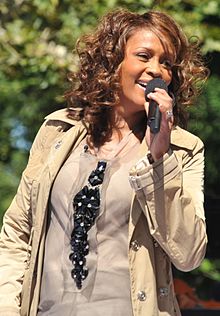 LOS ANGELES – The Los Angeles County Coroner's Office said Sunday afternoon that an autopsy on pop icon Whitney Houston's body has been completed, but official results have been placed on hold, pending toxicology tests.
Los Angeles Deputy Coroner Ed Winter said at a press conference that the tests could take six to eight weeks to process.
Winter added that the Beverly Hills Police Department had requested a "security hold" on the results of the coroner's investigation, meaning no further details will be made available until the inquiry is complete.
He confirmed earlier comments made by police that "no foul play is suspected."
He also confirmed that Houston was found Saturday afternoon in a bath tub in her room at the Beverly Hilton Hotel.
Prescription drugs had been found in the Beverly Hills Hilton hotel room where Houston's lifeless body was discovered Saturday afternoon just hours before a huge Grammy party she was to attend.
Police discovered a half dozen bottles of medication in Houston's room, TMZ reported, adding that family members said Houston had been taking the prescription drug Xanax, which is often used to treat anxiety.
When combined with alcohol, Xanax can cause drowsiness. Houston was reportedly found in her bathtub — TMZ says her head was underwater — and could not be revived by paramedics after being removed from the tub.
No alcohol was found in the preliminary sweep of Houston's room, TMZ reports, but there were multiple reports that Houston had been drinking with friends the night before at the hotel.
Houston had also attended rehearsals for the Grammys on Thursday, coaching singers Brandy and Monica, according to a person who was at the event but was not authorized to speak publicly about it. The person said Houston looked disheveled, was sweating profusely and liquor and cigarettes could be smelled on her breath.
She was also observed behaving "erratically" earlier in the week at a Los Angeles club, according to multiple reports.
Houston's body was removed from the hotel early Sunday morning, hours after the Grammy awards party she was there to attend had taken place four floors below her room.
Houston was 48.
Once pop music's undisputed queen, her voice and image had been ravaged by decades of drug use, erratic behavior and a tumultuous marriage to singer Bobby Brown.
Houston's death on the eve of the Grammy Awards sent shock waves through the music industry, with many stars expressing shock and sadness.
Brown reportedly broke down backstage before a show with his band New Edition in Southhaven, a few miles south of Memphis.
Brown skipped the first song of the concert, but appeared onstage for the second. He shouted, "I love you, Whitney. The hardest thing for me to do is to come on this stage." He then blew a kiss to the sky with visibly teary eyes.
Aretha Franklin, her godmother, said in a short statement: "I just can't talk about it now. It's so stunning and unbelievable. I couldn't believe what I was reading coming across the TV screen."
Houston's death will likely put a damper on Sunday's Grammy awards, music's biggest night of the year. Jennifer Hudson and Chaka Khan will perform a tribute to Houston at the awards, according to reports.
Grammy executive producer Ken Erhlich said event organizers believed Hudson — an Academy Award-winning actress and Grammy Award-winning artist — could perform a "respectful musical tribute" to Houston, the Los Angeles Times reported.
"It's too fresh in everyone's memory to do more at this time, but we would be remiss if we didn't recognize Whitney's remarkable contribution to music fans in general, and, in particular, her close ties with the Grammy telecast and her Grammy wins and nominations over the years," Ehrlich told the newspaper.
At her peak, Houston was the golden girl of the music industry. From the middle 1980s to the late 1990s, she was one of the world's best-selling artists. She wowed audiences with effortless, powerful, and peerless vocals that were rooted in the black church but made palatable to the masses with a pop sheen.
Her success carried her beyond music to movies, where she starred in hits like "The Bodyguard" and "Waiting to Exhale."
She had the perfect voice, and the perfect image: a gorgeous singer who had sex appeal but was never overtly sexual, who maintained perfect poise.
"Six-time Grammy winner Whitney Houston was one of the world's greatest pop singers of all time who leaves behind a robust musical soundtrack spanning the past three decades," Neil Portnow, President/CEO of The Recording Academy said in a statement.
"Her powerful voice graced many memorable and award-winning songs. A light has been dimmed in our music community today, and we extend our deepest condolences to her family, friends, fans and all who have been touched by her beautiful voice," he said.
Houston influenced a generation of younger singers, from Christina Aguilera to Mariah Carey, who, when she debuted, sounded so much like Houston that many thought it was Houston.
But by the end of her career, Houston became a stunning cautionary tale of the toll of drug use. Her album sales plummeted and the hits stopped coming; her once-serene image was shattered by a wild demeanor and bizarre public appearances. She confessed to abusing cocaine, marijuana and pills, and her once pristine voice became raspy and hoarse, unable to hit the high notes as she had during her prime.
"The biggest devil is me. I'm either my best friend or my worst enemy," Houston told ABC's Diane Sawyer in an infamous 2002 interview with then-husband Brown by her side.
Houston staged what seemed to be a successful comeback with the 2009 album "I Look To You." The album debuted on the top of the charts, and would eventually go platinum.
Things soon fell apart. A concert to promote the album on "Good Morning America" went awry as Houston's voice sounded ragged and off-key. She blamed an interview with Winfrey for straining her voice.
A world tour launched overseas, however, only confirmed suspicions that Houston had lost her treasured gift, as she failed to hit notes and left many fans unimpressed; some walked out.
Canceled concert dates raised speculation that she may have been abusing drugs, but she denied those claims and said she was in great shape, blaming illness for cancellations.