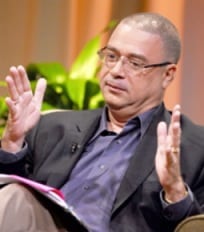 As tribute continues to pour in for the late Prime Minister David Thompson, the Government of Dominica has joined the rest of the region and the wider world in expressing its deepest sympathies to the Government and people of Barbados on the passing of their former Prime Minister, the Honourable David John Howard Thompson.
While extending sincere condolences to Honourable Thompson's widow Mara Thompson, his children, parents, other family members, close friends, and the people of his beloved Barbados, Minister of Lands, Housing Settlement and Water Resource Management, Honourable Reginald Austrie said that the Government of Dominica has  lost a very close friend and political ally.
Honourable Austrie also highlighted the commitment made by the late David Thompson to the Government of Dominica, earlier this year.
 A few hours after the passing of the late Barbados Prime Minister David Thompson, 48, acting Prime Minister Freundel Stuart was sworn in as the Country's sixth Prime Minister.
The late Prime Minister died in the early hours of Saturday morning with friends and family at his bedside after succumbing to Pancreatic Cancer.
He was known for restoring the island's Democratic Labor Party back to Parliamentary majority, decentralizing Government, strengthening social services and improving the Barbadian economy.
He will be laid to rest tomorrow, Wednesday October 27th, 2010.