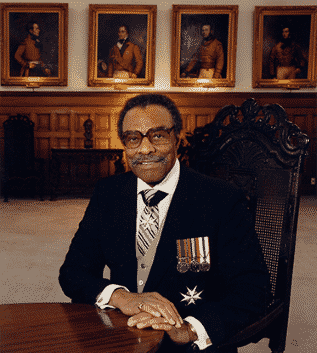 The Honourable David C. Onley, Lieutenant Governor of Ontario, leads Ontarians in mourning the death of Ontario's 24th Lieutenant Governor (1985–1991), the Honourable Lincoln Alexander. He is survived by his son, Keith, and second wife, Mrs. Marni Alexander.
Biography
When Lincoln Alexander entered the Lieutenant Governor's Suite for the first time in 1985, he might have paused for just a moment. He was, after all, about to enter not just a new and imposing office, but also an important phase of his own life—and in Ontario's history.
He was a man accustomed to breaking new ground: he became the first black person installed as the Queen's representative in Ontario. Born in 1922 in Toronto, he was the son of West Indian immigrants—his father a railway porter and his mother a maid. Alexander served with the Royal Canadian Air Force during the Second World War. In 1948 he married Yvonne Harrison, who remained a pillar of strength for her extraordinary husband until her death in 1999.
Alexander was educated at McMaster University, and later went on to study law at Osgoode Hall. Elected as an MP for Hamilton West in 1968, he was Canada's first black person elected to the House of Commons. He remained there for 12 years. He made history again in his final year in Parliament, when he became Canada's first black cabinet minister, having been appointed Minister of Labour.
As Lieutenant Governor—a post he held for more than six years—Alexander continued his pioneering ways. The first person of colour to be named to Ontario's viceregal role, he focused on youth and education as a key part of his mandate. An awards program for young people who demonstrate leadership in combating discrimination and racism within their school or community was established in his name.
Writing in the Financial Post at the time of Alexander's appointment, journalist Peter Worthington said, "He can do more for the mixture of people that is modern Ontario than any legislation can. This Canadian-born son of a railway porter has been his own man during the first 63 years of his life. Lincoln Alexander is the Jackie Robinson of Canadian politics. It's a proud moment for both him and Canada."
Alexander was appointed a Companion of the Order of Canada in 1992. Four years later in 1996, Prime Minister Jean Chrétien appointed Alexander chair of the Canadian Race Relations Foundation. Numerous awards and schools have been named in his honour.
An inspiration and outstanding role model, Alexander was a human rights visionary whose impact, in word and deed, will continue to echo throughout Ontario and Canada for generations to come.
http://www.lt.gov.on.ca/en/LA/LA.asp