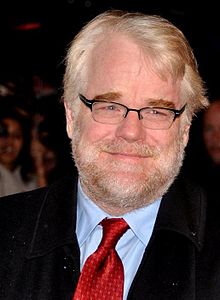 Philip Seymour Hoffman (July 23, 1967 – February 2, 2014) was an American actor and director. He won the Academy Award for Best Actor for the 2005 biographical film Capote, and received three Academy Award nominations as Best Supporting Actor. He also received three Tony Award nominations for his work in the theater.
Hoffman began his acting career in 1991, and the following year started to appear in films. He gradually gained recognition for his supporting work in a series of notable films, including Scent of a Woman (1992), Twister (1996), Boogie Nights (1997), The Big Lebowski (1998), Patch Adams (1998), Magnolia (1999), The Talented Mr. Ripley (1999), Almost Famous (2000), 25th Hour (2002), Punch-Drunk Love (2002) and Cold Mountain (2003).
In 2005, Hoffman played the title role in Capote, for which he won multiple acting awards including an Academy Award for Best Actor. He received another three Academy Award nominations for his supporting work in Charlie Wilson's War (2007), Doubt (2008) and The Master (2012). Other critically acclaimed films in recent years have included Owning Mahowny (2003), Before the Devil Knows You're Dead (2007), The Savages (2007), Synecdoche, New York (2008), Moneyball (2011) and The Ides of March (2011). In 2010, Hoffman made his feature film directorial debut with Jack Goes Boating.
Hoffman was also an accomplished theater actor and director. He joined the LAByrinth Theater Company in 1995, and has directed and performed in numerous stage productions. His performances in three Broadway plays led to three Tony Award nominations: two for Best Leading Actor in True West (2000) and Death of a Salesman (2012); one for Best Featured Actor in Long Day's Journey into Night (2003).
He died February 2, 2014 (aged 46) Manhattan, New York, U.S.