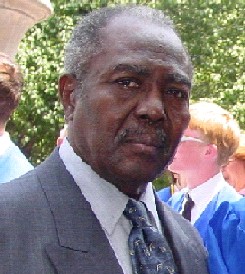 Washington, DC, August 1, 2011. Dominica's Police Chief at our island's independence from Britain in 1978, Oliver N. Phillip, OBE has died. A graduate of the prestigious Hendon Police College, Phillip was also the top graduate of his class at Police Academy. He rose in the ranks from constable to Chief over a career which spanned several decades. In the 1970's he was awarded the Order of the British Empire (OBE) by Her Majesty the Queen, Elizabeth II for his work in policing. His life's work was outlined in an excellent article by Dr. Emmanuel Finn on The Dominican website founded by Dr. Thomson Fontaine.
Phillip's name became legendary in the annals of Dominican law enforcement when he was seriously wounded during his valiant attempt to retake Police Headquarters during the 1981 coup attempt.Alerted to the gun battle at Police Headquarters which had been seized by rebellious soldiers during the December 19, 1981 attempted coup against the Eugenia Charles led administration, he had rushed to the scene-pistol in hand. His car was ambushed during his attempt at defending the young state which had only gained its independence only a few years earlier. Phillip's selfless action that morning rallied the men of the Dominica Police Force to eventually repulse the attackers who it transpired were in league with the Klu Klux Klan, US Nazi Party and elements led by Patrick John whose administration had lost office in the 1980 general election. He was born of a generation of policemen whose integrity and dedication to duty ensured that Dominicans remained a law abiding people.
He leaves to mourn his wife Maria Phillip (nee Ifill) – a long serving former US diplomat in the Caribbean, Africa and Fiji; his eight children, Veda, Joyce, David, Samuel, Paul, Barbara, Peter and Ray born of his first marriage to Esther Phillip (née Coipel) and numerous relatives and friends. Phillip was born on August 8, 1926 in Marigot, Dominica and would have celebrated his 85 birthday this year.