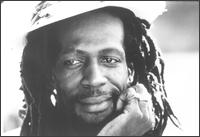 Reggae star Gregory Isaacs has died at the age of 59 at his London home following a long illness, his manager has confirmed.
The Jamaican singer died on Monday morning surrounded by his family.
His 1982 album Night Nurse, recorded at Bob Marley's Tuff Gong studio, reached number 32 in the UK.
A cover version of the album's title track, by Sly and Robbie featuring Simply Red, reached number 13 in the UK in September 1997.
Isaacs, who was diagnosed with lung cancer a year ago, had been travelling around Jamaica before returning home to London this summer to spend time with his wife, Linda, and his family.
"Gregory was well-loved by everyone, his fans and his family, and he worked really hard to make sure he delivered the music they loved and enjoyed," his wife said.
"He will be greatly missed by his family and friends."