CaribWorldNews, NEW YORK, NY, Sun. Oct. 24, 2010: The death of Prime Minister David Thompson has touched many corners of the world, even here in New York City government.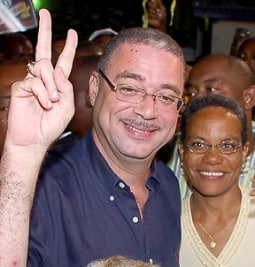 The Barbados PM`s passing was yesterday also greeted with sadness by New York City Mayor, Michael R. Bloomberg. Bloomberg called Thompson`s passing a `tragedy` and expressed condolences also to Barbadian New Yorkers.
`I enjoyed meeting with him at a reception for leaders from the Caribbean held at Gracie Mansion. On behalf of all New Yorkers, I extend my deepest sympathy to his wife, Marie-Josephine Mara, and their three daughters,` the mayor said last night.
Meanwhile, the Secretary General of the Organization of American States (OAS), José Miguel Insulza, also offered his condolences to the people of Barbados after learning of the death of Prime Minister David Thompson.
`On behalf of all the Member States of our Organization, I extend our deepest condolences to Prime Minister Thompson`s wife, Marie-Josephine Mara, and their three daughters, as well as to the people of Barbados. Today, not only Barbados, but all of the Americas, lost a dedicated statesman and a distinguished public servant,` Secretary General Insulza said.
The Secretary General recalled that Prime Minister Thompson had devoted his life to improving and expanding social services and creating opportunities for economic growth in Barbados. The head of the hemispheric Organization pointed out that, as a central figure in the Democratic Labor Party, his legacy would always be remembered.
`The OAS will honor Prime Minister Thompson`s life-long dedication to democracy at the next meeting of the OAS Permanent Council,` Insulza added.
In New York, the Caribbean American Chamber of Industry and Commerce`s Roy Hastick, remembered Thompson as a visionary leader with a quiet persona, who always seemed to be keenly focused on the development of Barbados and its relationship to the wider Caribbean community CARICOM.
`I recall many years ago when I first met the Prime Minister when he addressed the Caribbean American Chamber of Commerce and Industry at our headquarters at the Brooklyn Navy Yard.  At that time it was in his capacity as leader of the opposition.  He spoke about his role and the opportunities for strengthening partnerships with people in the Caribbean Diaspora and stressed the importance of working together to create new paradigms,` said Hastick.
`His passing reminds us that wherever we may reside in the Caribbean Diaspora, we share not only a common heritage but also a common destiny.  We also have common challenges as well as opportunities to reaffirm our commitment to work together, to collaborate with each other in order to build an even more unified and stronger Caribbean Community.`
In St. Lucia, Prime Minister Stephenson King remembered the last PM as `a true renaissance man.`
`We will forever be inspired by his oratorical skills, his solution-oriented, professional approach to leadership, his thoughtfulness, but moreover, his humanity,` said King.
PM Thompson passed away at 2:30 a.m. Saturday morning at his home in Barbados after a brief battle with pancreatic cancer. He was 48.