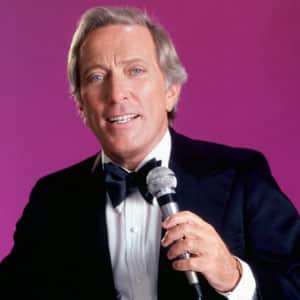 American crooner and former TV host Andy Williams, known for classics like Moon River and The Most Wonderful Time of the Year, has died at his home in Branson, Mo.
Williams, once dubbed "a national treasure" by former U.S. president Ronald Reagan, died Tuesday following a yearlong battle with bladder cancer, a publicist revealed Wednesday morning. He was 84.
The singer and former host of a popular variety show had revealed to fans last November that he had been diagnosed with bladder cancer, but vowed to continue performing at the Moon River Theatre he built in Branson in the 1990s.
He had been seeking cancer treatment at different facilities in the U.S.
With his smooth tenor voice and easy demeanour, Williams outlasted fellow swing-era singers such as Frank Sinatra and Perry Como. He was still performing prior to his death.
Performed with older brothers
He was also a popular host of The Andy Willams Show, which ran from 1959 to 1971 and gave spots to singers such as the Osmonds, singers Bobby Darin and Ray Stevens, and comedian Jonathan Winters.
On Wednesday, Donny Osmond paid to tribute to the man who helped give him his start.
"He truly was a great singer and I will ever be indebted to Andy for giving me the opportunity to fulfil my dreams and the opportunity to be personally inspired by such a generous talent," Osmond said.
"When I finally joined my brothers and toured with Andy as his opening act and backup singers, I was always impressed with the way he handled an audience. He loved the audience. That was one of the most important lessons he taught me," he added.
Williams also booked some rock and soul acts, including the Beach Boys, the Temptations, the Mamas and the Papas, Smokey Robinson and fledgling artist, Elton John.
Born Howard Andrew Williams in Wall Lake, Iowa, on Dec. 3, 1927, Williams began performing with his older brothers Dick, Bob and Don in the local Presbyterian church choir. Their father, a postal worker and insurance salesman, was the choirmaster and fostered their singing career.
Williams's father got the boys an audition on Des Moines radio station WHO's Iowa Barn Dance, and after several performances, they gained attention from entertainment interests in Chicago, Cincinnati and Hollywood, which is where they met Reagan, then a young sportscaster at WHO.
The Williams Brothers appeared with Bing Crosby on the hit record Swinging on a Star and Janie (1944), Kansas City Kitty (1944), Something in the Wind (1947) and Ladies' Man (1947).
The brothers worked with MGM vocal coach Kay Thompson and were groomed to become a nightclub act, beginning at the El Rancho Room in Las Vegas, and performing in New York, Los Angeles and across the nation. They earned rave reviews and stayed together for the next five years.
Williams goes solo
Williams went solo in 1953, when his brothers left the act for other opportunities. He struggled to get recognition and his first recordings sold poorly. He said in his autobiography, Moon River and Me, that at one point, he was so broke he ate dog food.
"I had no money for food, so I ate it," he recalled in 2001, "and it actually was damned good."
In 1954, he landed a spot on the Tonight Show with Steve Allen, one of the era's popular TV variety shows. He had his first hit in 1956 with Canadian Sunset, which rose to No. 7 on the charts.
Other hits followed, including Butterfly, The Hawaiian Wedding Song, The Village of St. Bernadette and I Like Your Kind of Love.
Behind the scenes, Williams had bought his record label Cadence Records and was helping launch the careers of other artists, among them Stevens, the Everly Brothers and Jimmy Buffett.
Williams was a major star of the '60s and the '70s and continued to score chart hits in the U.K. until 1978. He had 18 gold records and three platinum, was nominated for five Grammy awards and hosted the Grammy ceremonies for several years.
Love Story, Days of Wine and Roses
Movie songs became a specialty – he recorded tearjerker Love Story and Days of Wine and Roses for the movie of the same name. He collaborated frequently with Johnny Mercer and Henry Mancini, and recorded their ballad Moon River, performing it at the 1962 Oscar ceremony, where it won the Academy Award.
The song was first performed by Audrey Hepburn in 1961's Breakfast at Tiffany's and has been covered by numerous other artists. But Williams considered it a signature song.
"When I hear anybody else sing it, it's all I can to do stop myself from shouting at the television screen, `No! That's my song!"' Williams wrote in his 2009 memoir.
After his TV show ended, he continued producing Christmas specials and toured extensively.
He eventually became tired of the road and in the 1990s built the Moon River Theatre in Branson, then a haven for country music, as a platform for himself and other artists.
Williams was a lifelong Republican who once accused President Barack Obama of "following Marxist theory." But in 1968, he supported Robert Kennedy's presidential campaign. Williams sang The Battle Hymn of the Republic at the funeral for Kennedy following the senator's assassination.
Williams's first marriage in 1961 was to French-born Claudine Longet, a dancer he met in Las Vegas. They had three children, Noelle, Christian and Robert, but divorced in 1975 after a long separation.
However, when Longet was accused of fatally shooting her boyfriend, alpine racer Spider Sabich, in 1976, Williams stepped up to support her. He testified to her character in court and was seen escorting her to and from the courthouse. Longet claimed the shooting was accidental and got a 30-day sentence.
Williams married again in 1991 to Debbie Meyer and the two made their home in Branson. He was an avid golfer and collector of art. He is survived by Meyer and three children from his first marriage.