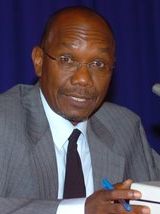 Former government minister Martin Joseph died on Monday morning while swimming at Grange Bay on the southwestern side of Tobago.
Chief Secretary of the Tobago House of Assembly Orville London confirmed the drowning while speaking on local radio.
Joseph was vacationing on the island and was taking an early morning walk with friends when he decided to go for a swim.
At around 8 am, he got into difficulty and disappeared under the water.
His body was later pulled from the water by police.
Investigations are underway to determine the circumstances surrounding Joseph's death.
However, many questioned why he ventured into the water in the first place since a rough seas bulletin has been in effect around both Trinidad and Tobago for just over a week.
Grange Bay is also noted for being one of the most dangerous beaches in Tobago.
There are no lifeguards at the beach where the drowning took place.
Joseph served as a member of parliament for the St Ann's East constituency from 1995 to 2002. He was appointed to the Patrick Manning-led Cabinet in 2001 when he assumed the portfolio of minister of public utilities and the environment. In October 2002, he was made a government senator and was given the portfolio of minister of housing, an appointment he held until November 2003. Joseph was appointed minister of national security in November 2003.
The political leader of the PNM, Dr. Keith Rowley, and deputy political leader responsible for Tobago, Orville London, led many in paying tribute to the man who was the party's deputy campaign manager for the upcoming 2015 general election.
Rowley said party members were devastated and unable to come to terms with the tragic incident.
"I am still so devastated that words can't express my sorrow and shock at the news this morning," he said.
Rowley said Joseph was not only a former national security minister but a fixture and stalwart of the highest order.
"He has been a general secretary of the party for many years, and he has worked closely with every constituency and a large number of constituents. He was a family man, and receiving this devastating news this morning is really shocking to all of us," he said.
Former PNM minister, Paula Gopee-Scoon MP, said Joseph had contributed greatly to the political party. She said he was a strategic planner and excelled at planning and running an election campaign.
"He was one of those background people; he was not a PR man, but certainly a man of tremendous importance in the party. He was a specialist in how the party wants to go forward. He had tremendous experience, and he was a quiet thinker," she said.
"Martin has contributed greatly to the party in terms of strategy and in terms of putting together an election campaign, so I know the party will feel the loss of Martin. He has given a lifelong contribution to the PNM, but also in terms of his management of the election process and his strategic thinking," she said.
The current minister of national security, Senator Gary Griffith, and his ministry also extended condolences to Joseph's family and friends and the PNM.
Martin Joseph, former national security minister, Trinidad & Tobago, died