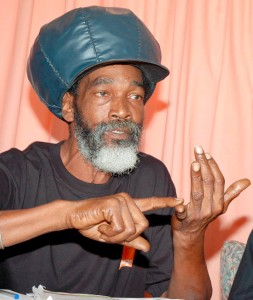 The man who was associated with organizing Harlem related musical events, businessman Loftus Emmanuel has died.
He passed away moments ago (Wednesday morning around 11am) at the Princess Margaret Hospital.
A diabetic, 65-year-old Emmanuel is reported to have been hospitalized at the PMH for the past week.
He is also reported to have undergone surgery.
Emmanuel is well known among music fans – he had a stall at the old Market in Roseau where he sold CDs, and also had a business on Cork Street in the capital.
Colleague Alex Bruno says the lifelong promoter and activist's passing is a tremendous loss.
"What Jeff Joe (of Grammacks fame) was on stage, Loftus was behind the scenes," Bruno said of the tall, lanky Rastafarian.
It's not yet confirmed officially, but it's being reported that Emmanuel's death may be linked to some diabetic-related complication.