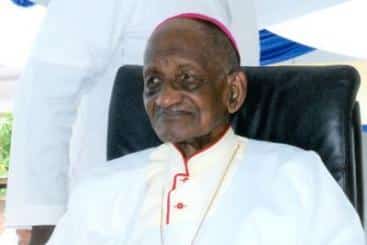 ROSEAU, Dominica, November 8, 2012 – The Dominican-born former Roman Catholic Bishop in Ghana, Joseph Oliver Bowers, has died. He was 102 years old.
Relatives said that Bishop Bowers, whose father was originally from Antigua, died on Monday.
He was ordained a priest in the United States on January 22, 1939 and became a bishop in 1953. He was the first black person in the United States to be ordained bishop and after his ordination he went to Ghana where he did most of his ministry.
Bishop Bowers founded the congregation of the Sisters of the Handmaids of the Divine Redeemer (HDR) in Accra in 1957, which was dedicated to caring and comforting the poor. He also started a school, which is named after him.
He is also the founder of St John College and Seminary presently known as Pope John Senior High School and Minor Seminary, one of the best high schools in Ghana.
In recognition and acknowledgement of his pioneering work in Ghana, when the diocese of St. John's-Basseterre in the West Indies was created in 1971 – comprising the islands of Antigua-Barbuda, St. Kitts and Nevis, Montserrat, Anguilla and the British Virgin Islands – Bowers was appointed its first bishop on January 16, 1971.
He retired in 1981 and returned to Dominica before migrating to Ghana in the 1990s where he lived until his death.