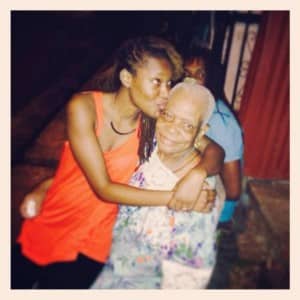 Mona Piper, 77, of Roseau described as a stalwart of the Dominica Freedom Party has died.
Piper, who was former Prime Minister Dame Mary Eugenia Charles' caretaker and long-time friend, died of cancer on Monday January 20, 2014.
According to her daughter Patricia Piper, Mona returned to the island on Sunday, January 19, 2014 after receiving treatment in the United States.
"She was a pillar of strength, she supported her children, and she was always there for us. We expected her to die but not so soon, not yesterday for this morning," Patricia told Dominica Vibes.
Meanwhile, general secretary of the Dominica Freedom Party, Johnson Boston remembers her as one who was always involved in the party from the level of the party council in the Roseau Central branch for many years.
"Mona Piper is a stalwart member of the Dominica Freedom Party…She has been one of those persons you could rely on, you could count on her at any time when comes to the party".
Boston noted that Piper also spearheaded the party's fundraising activities.
"One would remember her every Friday night for the past years, being outside of the Dominica Freedom Party headquarters in Roseau doing this barbeque which was a very tasty barbeque, to raise funds for the party and any other activity that we have".
Outside of the party, Boston said Piper was always willing to assist the needy.
"She has been one who has been involved in assisting the disabled, the elderly, the shut-ins and persons in need, she has always been involved in fund raising activities through her church for assisting persons who are in need".
While Boston was aware that she was ill, he did not anticipate that her death would come so soon.
"We were not expecting her passing to be so soon but the Almighty Father knows best and all one could say is that we extend heartfelt sympathy to her children, her family, her friends and relatives here in Dominica and overseas".
The Freedom Party, he said, will miss her because "she has been a very strong and positive member of the Dominica Freedom Party for many years".
Piper worked with former leaders of the Party including former Prime Minister Dame Eugenia Charles, Sir Brian Alleyne, President of Dominica, Charles Savarin and Judith Pestaina and current leader Michael Astaphan.
The Party will convene a meeting on Tuesday, January 21, 2014 to discuss her passing.
"The Freedom Party cannot not be involved in Mona's send-off," Boston stated.
Mona, who celebrated her 77th birthday on January 10, 2014, is survived by five children; four boys and one girl.