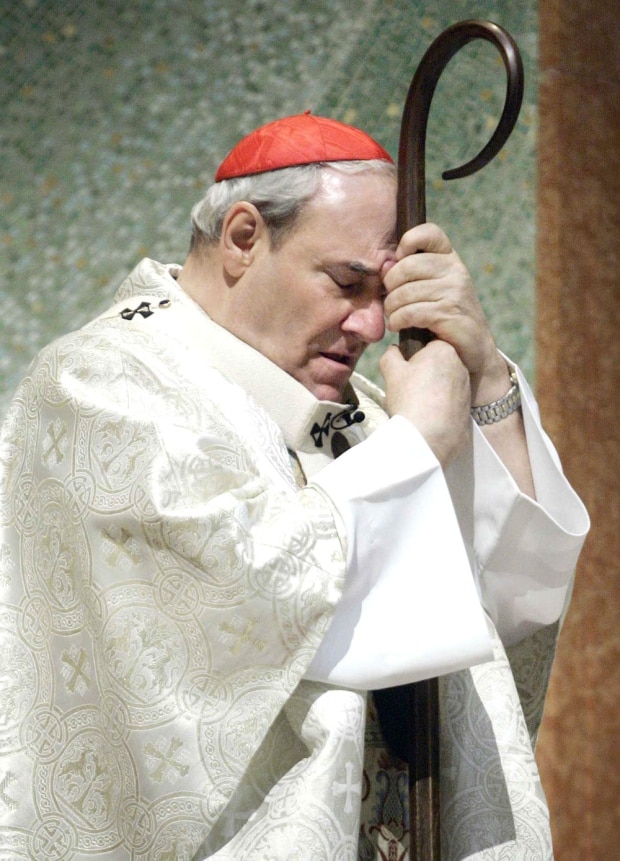 MONTREAL — Cardinal Jean-Claude Turcotte, who oversaw the funerals of NHL great Maurice (Rocket) Richard and former prime minister Pierre Elliott Trudeau during his 22 years as archbishop of Montreal, died early Wednesday after a lengthy illness. He was 78.
The Montreal native was hospitalized in the summer of 2014 and was admitted to a palliative care unit last March 24.
A statement from the archdiocese of Montreal said Turcotte died at Marie-Clarac Hospital in the city.
The current Archbishop of Montreal remembered his predecessor as a man who always respected the liberty of others while simultaneously maintaining his own beliefs.
"He was always welcoming to people, whatever their background, whatever their opinions, whatever their faith or beliefs, but at the same time he had his convictions," Christian Lepine said in an interview.
Turcotte had two main issues he loved to engage in — discussion of Christ and a desire to help the poor, Lepine said.
"Even in the last few months of his life, when I was going to see him, he was always speaking about Jesus Christ, so it was really he had Jesus Christ in his bones," he added.
"But also the poor. He always had an interest in the poor, supporting the poor, supporting the organizations or institutions that organize themselves to help the poor."
Pope Francis expressed his condolences in a statement.
"As we celebrate the resurrection of Christ, I ask him to welcome into the light of eternal life this faithful priest who served the church with devotion," the statement said.
The hospital's chief doctor praised the way Turcotte faced death.
"Rarely do you see such dignity in someone who is dying," said Maria Karas. "He always had a magnificent little smile…he had faith. The cardinal really died with dignity."
Prime Minister Stephen Harper expressed his sadness, saying Turcotte will be remembered for his compassion, humility and leadership.
"His Eminence was a man of deep principle and service who lived his life according to the Catholic faith," Harper said in a statement.
"Over a lifetime, his ministering helped thousands including the homeless and the poor, which is why he became known as 'the people's priest' and a shepherd to the people of Montreal."
The funeral will take place April 17.
Turcotte studied at College Andre-Grasset before obtaining his theology degree at the Grand Seminary of Montreal. He was ordained a priest in May 1959 and occupied several pastoral functions before being named bishop of Montreal in June 1982.
Turcotte grabbed headlines in 2008 when he returned his Order of Canada to protest the decision to bestow the honour on Dr. Henry Morgentaler, the well-known abortion pioneer.
"You make him a national hero while what he defends offends very deeply and causes indignation among a significant portion of the population," he said. "There are limits and I have to protest this."
During the 1984 papal visit, the provincial government assigned Turcotte to represent Quebec bishops and to oversee the co-ordination of the trip in the Montreal diocese.
In March 1990, Pope Jean-Paul II named Turcotte archbishop of Montreal.
Turcotte remained active in the Roman Catholic Church, taking in different events around the world before becoming a cardinal in October 1994.
The following year, Turcotte obtained an honorary doctorate in theology from Montreal's McGill University and was elected vice-president of the Canadian Conference of Catholic Bishops.
Turcotte became president in 1997, a position he held for two years.
In 2000, he celebrated the funerals of Richard and Trudeau, both at the Notre-Dame Basilica.
Turcotte remained close to community organizations in his Montreal diocese and also presided over the annual Good Friday blood donor clinic.
Turcotte was known as a good communicator, writing a column for Le Journal de Montreal from 1995 to 2008 and also appearing regularly on radio and TV programs.
In 2012, at the age of 75, he was replaced as archbishop of Montreal by Lepine.
During his religious career, Turcotte took part in two conclaves that chose the successors to two popes, Jean-Paul II and Benedict XVI.
As the 2013 conclave approached, Turcotte said in an interview he was open to a modernization of the church, but that he remained faithful to the teachings of the Catholic religion and that the church would not change its dogma.
"We don't do a survey every week to know what people are thinking, in order to tell them what to do," he said.
"We have one message and, in this message, there are a certain number of principles which would be difficult to change.
"Having said that, there have been, perhaps, attitudes which have hardened over the centuries, which should be softened."
In July 2014, Turcotte spoke out about pedophile scandals in the church and the estimate by Pope Francis that only two per cent of priests were pedophiles.
"We're talking about two per cent … it's not a lot, but even if one priest is a pedophile, that's one too many," Turcotte told The Canadian Press.
He also said victims of sexual assaults that occurred within the walls of Catholic establishments should be compensated.
"If there are people who behaved badly, they (must) pay for their behaviour," Turcotte declared. "It's normal that we pay for the wrongs that were committed."
Father Jean-Marc Barreau, the chaplain at the hospital's palliative-care unit, said everything was done to help Turcotte avoid any suffering.
"He died as he lived, in peace, serenity and truth," Barreau said Wednesday. "He was an extremely human and deeply spiritual man and he lived that way until his last days. He gave his life to Quebec and he thought of Montrealers right through his last moments of lucidity."
Premier Philippe Couillard also offered his condolences.
"He was not only a well-known and remarkable man of the church who was appreciated around the world, he was also a Montrealer and Quebecer who was very involved in society," Couillard said at an event in Montreal.
Source: http://www.ctvnews.ca/
Cardinal Jean-Claude Turcotte