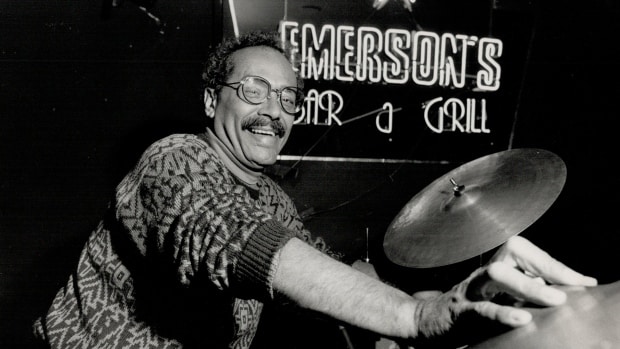 Archie Alleyne, a Toronto jazz drummer who played with Billie Holiday, Stan Getz and Lester Young, has died, his family confirmed Monday.
Alleyne had been fighting cancer for several years. He passed away at Bridgepoint Health at the age of 82.
Archibald Alexander Alleyne was born in 1933 and grew up around the Kensington Market neighbourhood.
Alleyne taught himself the drums when, at a young age, he decided he did not want to follow his father into the railroad industry.
In his 20s, he became the house drummer at Town Tavern, a famous jazz bar on the north side of Queen Street East just off of Yonge Street.
It was at the Town Tavern in the 1950s that Alleyne earned his legend as Toronto's premier jazz percussionist. He played with legends like Billie Holiday, Lester Young, Stan Getz, Coleman Hawkins and Ben Webster.
He later toured the world, released several well-regarded albums, opened a trailblazing restaurant and became a de facto spokesman for jazz in Canada, but he is frequently remembered for drumming in local jazz clubs early in his career.
https://www.youtube.com/watch?v=_6imX4o5xnA
Outside of jazz
Just as his career was taking off, Alleyne had an unexpected exit from playing music in his early 30s.
In 1967, he was involved in a serious car accident on Lakeshore Boulevard as he was driving home from a concert. As he tells it, he fell asleep at the wheel and crashed into a lamp post, he told Vice News earlier this year. He did not perform jazz again until 1982.
Though he was not playing drums on stage at the Town, he was still in the spotlight. During his time away from jazz, he became a partner at the Underground Railroad restaurant in the Bloor and Sherbourne streets area.
Opened in 1969, the restaurant was an unorthodox addition to Toronto's restaurant scene. It was black-owned and specialized in soul food. The restaurant to this day is seen as trailblazing, as black restaurateurs were a rarity at the time and the soul food on the menu was considered a first for the city.
Alleyne owned the Underground Railroad with several partners, including Toronto Argonauts' great Dave Mann.
The restaurant changed ownership in the early 1980s and shut down a few years after that.
Pushing jazz forward in Canada
By 1982, Alleyne was back playing music with Up Here, an album with the Frank Wright Quartet. For the album cover, he and Wright posed in tuxedos and instruments in front of the Flat Iron building on Front Street.
But Alleyne became frustrated with the progress of jazz music in Canada since he was last playing music in the 1960s.
In 1983, the drummer launched a protest aimed at the Canada Council for the Arts for excluding jazz when providing subsidies for recordings. He called it discrimination, and recruited a number of high-profile Canadians to join him in the call for change.
Eventually the federal government provided funding for jazz recordings.
A few years later, he led another successful lobby to get more black musicians into the Toronto Jazz Festival.
All the while he continued to make jazz.
In 1989, Alleyne toured countries in the Caribbean and Africa with pianist Oliver Jones.
A concert they played in Nigeria was turned into a concert film by the National Film Board of Canada. Called Oliver Jones in Africa, the 1990 film is kept at the American Library of Congress for its cultural import.
More recently, Alleyne established The Archie Alleyne Fund for aspiring musicians. He was recognized for his efforts with a Harry Jerome award in 2015.
Alleyne was named as an officer for the Order Of Canada in 2012.
Colour Me Jazz: The Archie Alleyne Story, an autobiography written with Sheldon Taylor, is set to be released June 14.
Arts Toronto announces the 17th Annual Toronto Arts Awards recipients 2002 " Archie Alleyne lives and breathes jazz as if it's a vital food source. Musician …
Archie Alleyne Dies at 82