Ancaster Junior Avalanche captain died suddenly in his sleep stated a family member Wednesday Morning.
The sad news reached the hockey community that Ancaster Junior Avalanche captain, Luke Zupan  was found dead at his west Mountain home.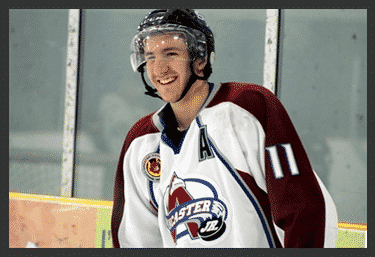 The Hamilton's junior hockey community is shocked to learn that Luke Zupan, the 20-year-old captain of the Junior B Ancaster Avalanche, was found dead Wednesday night.
"His family says he passed away in his sleep," said Avalanche public address announcer and social media liaison Glen Cuthbert. "The family has asked for privacy."
Avalanche head coach and general manager Ryan Kuwabara said it's a very emotional time for the entire team.
"It doesn't seem real," Kuwabara said.
He's trying to arrange for grief counselors from the Ontario Hockey Association to meet with the players later today in their dressing room at Morgan Firestone Arena.
The team had been slated to practice from 8 p.m. to 10 p.m. but it's unlikely there will be an official practice although some players may opt to skate.
Avalanche president Kelly Barber said the St.Thomas More graduate was very popular with his teammates.
"That was one of the reasons we made him captain last year, he had the respect of all the players, not just on the ice but in the dressing room," said Barber. "He was a very good person."
Barber said their game in Pelham on Friday night and their home game against St. Catharines on Saturday have been postponed.
Barber said a team tribute is in the works and they will be holding a moment of silence for Zupan at their Sept. 24 home game against Fort Erie.
The team is also looking to have Zupan's number 11 put on the ice in time for that game and it will remain there for the rest of the season.
Zupan was in his third full season with the Avalanche.
He also played a season with the Stoney Creek Warriors before the team moved to Ancaster for the 2013-2014 season.
Over that time he scored 27 goals and added 68 assists and 252 penalty minutes.
Condolences pouring in for Luke Zupan the Ancaster Junior Avalanche captain died suddenly.
There's been an outpouring of condolences from across the province after Ancaster's Junior B team announced its captain, Luke Zupan, died suddenly in his sleep.
The Ancaster Junior Avalanche captain Luke Zupan, 20, was entering his fourth year with the Ancaster junior avalanche as captain of the team, when he died suddenly Wednesday night in his sleep.
The team's head coach released a statement to CHCH News saying Zupan would light up the room with his presence, and was always the first player willing to help out with any volunteer or community commitment.
The team posted word of his death on its website. "'Zup' demonstrated all the skills on and off the ice to proudly represent the av's organization. He was our team leader encouraging all the players to do their best, work hard and have fun."
"He participated in every charity event the club participated in and was always willing to help out with anything the club needed. Our #11 will be deeply missed."
Word of Zupan's death quickly spread through social media. Condolences poured in.
From the Fort Erie Meteors: "we send our deepest condolences to the Zupan family."
The London Nationals tweeted: "our thoughts and prayers are with you."
And from the Hamilton Bulldogs: "deepest condolences to the Zupan family and Ancaster Junior Avalanche Junior B's."
The Junior B team was scheduled to play Friday night in Pelham and Saturday in Ancaster, but those games have been postponed. Grief counselors are expected to be on hand when the team meets tonight at Morgan Firestone Arena.
Funeral arrangements for Ancaster Junior Avalanche have not yet been confirmed, but the team is planning a tribute for Zupan at the next home game September 24th.