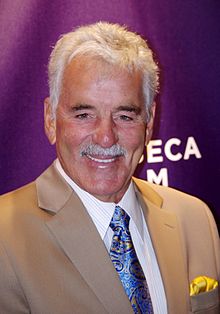 (CNN)
— Dennis Farina, the well-known film and TV character actor with the distinctive Chicago accent, has died, his representative said Monday. He was 69.
The actor — a one-time Chicago police officer — played both mobsters and cops.
He was a regular on the "Law & Order" TV show, replacing Jerry Orbach, and acted in the acclaimed film "Get Shorty." End
————Bio——————
Born on Feb. 29, 1944 in Chicago, IL, Farina was raised in a working class neighborhood on the north side by his father, Joseph, a doctor and his mother, Yolanda, a homemaker, both of whom hailed from Italy. Though he grew up watching movies like any other kid in the neighborhood, Farina never considered being an actor or even aspired to be a star. He also never took acting classes or partook in any drama productions in school. After graduating St. Michael Central High School in 1962, he enlisted in the U.S. Army for three years before returning home to Chicago, where he was encouraged by his older brother, Joe, an attorney, to become a policeman. Farina spent the next 18 years as a policeman, both as a uniformed officer and a burglary detective, though he later joked that he was such a poor shot that his fellow officers nicknamed him "The Great Wounder." While his stint as a policeman remained relatively uneventful, he was on scene during the riots outside the infamous 1968 Democratic National Convention, an event he felt gave the Chicago Police Department "a bum rap."
But Hollywood unexpectedly came calling after Farina was introduced by a fellow officer to writer-director Michael Mann on the set of thief "Thief" (1981). The officer, who served as a technical advisor for Mann's crew, suggested that Farina serve as an urban guide for the production's stay in Chicago. But Mann instead cast Farina in a small role as a criminal henchman. At first, Farina thought acting would be a good way to earn some extra side money, while never contemplating the prospect of turning his experience into a fulltime career. He spent the next few years working as a fulltime detective and taking the occasional acting gig, which included working regional theater under the guidance of Steppenwolf stars like Gary Sinese and John Malkovich. Mann later offered Farina a leading role on the television show "Crime Story" (NBC, 1986-88), a police procedural set in the early-1960s that led the actor to retire from the force in order to concentrate solely on acting. Also that year, he was given a sizeable supporting role as the boss of a jaded profiler (William Petersen) on the hunt for a serial killer (Tom Noonan) in Mann's critically praised, but box office failure, "Manhunter" (1986).
Now a full-fledged actor, Farina displayed some range on the small screen, playing the Birdman of Alcatraz in "Six Against the Rock" (NBC, 1987), serial killer Angelo Buono in "The Case of the Hillside Strangler" (NBC, 1989), and a wealthy New York City tycoon in the miniseries "People Like Us" (NBC, 1990). On the big screen, he continued his penchant for playing bad guys as a mobster owed $15 million by a complaining embezzler (Charles Grodin) being escorted by a hard-as-nails bounty hunter (Robert De Niro) in "Midnight Run" (1988). In "Men of Respect" (1991), he portrayed the Banquo character in this crime thriller adaptation of Macbeth, which starred John Turturro as a hit man who is pushed to murder his boss (Rod Steiger) after three fortunetellers ensure his success at the top of the organization. After a supporting role in the television miniseries "Cruel Doubt" (NBC, 1992), Farina was part of the large cast of the Michael Mann-produced miniseries "Drug Wars: The Cocaine Cartel" (NBC, 1992). Back in features, he was the none-too-bright subject of surveillance by Richard Dreyfuss and Emilio Estevez in "Another Stakeout" (1993) and a gruff, Leo Durocher-style baseball manager in "Little Big League" (1994).
Farina finally had his breakout role with his next big screen project, "Get Shorty" (1995), in which he delivered a finely tuned comic performance as Ray "Bones" Barboni, a Miami mobster on the hunt for loan shark Chili Palmer (John Travolta), who disappeared in Hollywood while tracking down a small time gambler (David Paymer) who owes big money. The actor stood tall amongst heavy hitters like Travolta, Danny DeVito and Gene Hackman, while earning critical kudos for his performance. He had less to do in his follow-up, "Eddie" (1996), a basketball comedy in which he played the coach of the New York Knicks who is forced to deal with an obnoxious fan (Whoopi Goldberg). Farina next had a rare lead as the ex-husband of Bette Midler in Carl Reiner's comedy "That Old Feeling" (1997), which he followed with supporting turns as a lieutenant colonel in "Saving Private Ryan" (1998) and the father of a love-torn U.S. Marshal (Jennifer Lopez) in "Out of Sight" (1998). Also that year, he had the title role in the private eye procedural, "Buddy Faro" (CBS, 1998), only to see the show canceled after only nine episodes.
Meanwhile, Farina continued to have strong supporting roles in high profile films, including Guy Ritchie's caper comedy "Snatch" (2000) and John Frankenheimer's crime thriller "Reindeer Games" (2000). Following a small role as a television newsman in Edward Burns' "Sidewalks of New York" (2001), he was a hit man targeting an embezzler (Stanley Tucci) in the troubled crime comedy, "Big Trouble" (2002). Farina had a rather forgettable turn in the Tom Green comedy "Stealing Harvard" (2002), while landing the role of the overprotective father-in-law of a newly married man (Elon Gold) in the short-lived sitcom "The In-Laws" (NBC, 2002). After flying under the radar as a detective in the Mel Gibson-produced indie "Paparazzi" (2004), he returned to series television by succeeding the late Jerry Orbach on the venerable crime drama, "Law & Order" (NBC, 1990-2010), playing the sharp-dressed, well-manicured ex-Chicago cop Joe Fontana, who leads a surprisingly high-end lifestyle on a cop's salary. He left the show after two years in 2006 to pursue other projects, which included a supporting role as the arrogant owner of a fitness club in the acclaimed miniseries, "Empire Falls" (HBO, 2005). Farina followed with supporting roles in the crime comedy "You Kill Me" (2007) and the historically inaccurate "Bottle Shock" (2008), before appearing opposite Cameron Diaz and Ashton Kutcher in "What Happens in Vegas" (2008).
Farina next joined an all-star cast that included Dustin Hoffman and Nick Nolte for creator David Milch's "Luck" (HBO, 2011-12), an ensemble drama revolving around a L.A. area horse racing track. In the well-regarded series, Farina played Gus, the right hand man of Hoffman's scheming, vengeful ex-con character. Unfortunately, Farina's tenure on the show was cut short after a total of three thoroughbred horses were euthanized after sustaining injuries during the production of the first season. Dismayed at the turn of events and under fire from animal rights organizations, Milch, co-producer Michael Mann and HBO announced that "Luck" would discontinue production immediately, ending with the conclusion of season one.