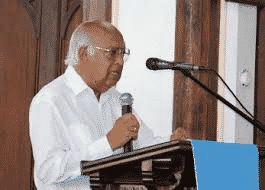 The broadcasting world is mourning the death of well -known radio personality, Rafiq Khan, who passed away in Jamaica on Friday October 10, 2014.
The 81-year-old Khan, a former Programme Manager at Radio Demerara, which eventually evolved into what is now known as the National Communications Network, has been described as a foremost broadcaster in the region, rubbing shoulders with the likes of Terry Holder, Ayube Hamid and Hugh Cholmondeley.
He fell in love with radio at only 16 and was said to have transformed every broadcast into a work of art.
It was in 1996 that Khan was inducted into the Caribbean Broadcasting Hall of Fame, in Dominica.
He rose to the level of Manager and was said to have motivated the golden age of radio in Guyana, spreading his tentacles across the Region.
In the citation to the induction, it said that Khan had the entire Caribbean is his home.  "This you so amply demonstrated when, as UNESCO's first Communication Advisor in the Region, you mobilized international resources and used your outstanding expertise in implementing scores of media development projects to benefit all our countries."
Throughout the Caribbean, Khan bonded with broadcasting stations, large and small, elevated them to new heights and became part of them.  He also served on the Boards of CANA and CBU, lectured at CARIMAC, and guided the three regional organizations through crucial stages of their growth.
"Since retiring from UNESCO, you have never ceased to give liberally from your vast reservoir of knowledge and experience to the cause of regional communication.  Your counsel is sought after and followed by governments and communication institutions throughout the Caribbean and Latin America.  Broadcasters, young and old look up to you as their caring friend and mentor.  We at the CBU continue to be enriched by your wisdom and diplomacy."
Khan paid tributes on the passing of Holder, Cholmondeley and other broadcasters like Olga Lopes-Seales.