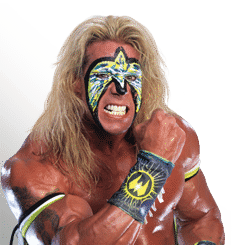 The Ultimate Warrior, the retired U.S. professional wrestler who just days ago was inducted into the WWE hall of fame, has died at the age of 54.
The WWE released a statement on its website saying it is "deeply saddened" to hear about the passing of "one of the most iconic WWE Superstars ever." In addition, the organization sent "its sincere condolences to Warrior's family, friends and fans."
Scottsdale, Ariz., police spokesman Sgt. Mark Clark said he collapsed while walking with his wife to their car at a hotel and was pronounced dead at a hospital.
There were no signs of foul play, Clark said. The Maricopa County Medical Examiner's Office will conduct an autopsy Thursday, county spokeswoman Cari Gerchick said.
He was inducted into the WWE's hall of fame at a ceremony on Saturday in New Orleans and appeared at WrestleMania 30 the following day at the Superdome. His first appearance on WWE television was in 1996 when he left the company after an acrimonious split with its chairman and CEO, Vince McMahon.
The iconic wrestler addressed his screaming fans from the ring at a WWE Raw live event on Monday.
"No WWE talent becomes a legend on their own," he said. "Every man's heart one day beats its final beat. His lungs breathe their final breath."
A man's spirit is immortalized by the memory of the people who honor him, and he said while wearing a plastic mask that mimicked the multicolored face paint he was known for wearing to the ring.
"You, you, you," he said, pointing at people in the audience. "You are the legend makers of Ultimate Warrior."
Born James Hellwig in Indiana, he legally changed his name to Warrior in 1993. His wife and their two daughters survive him.