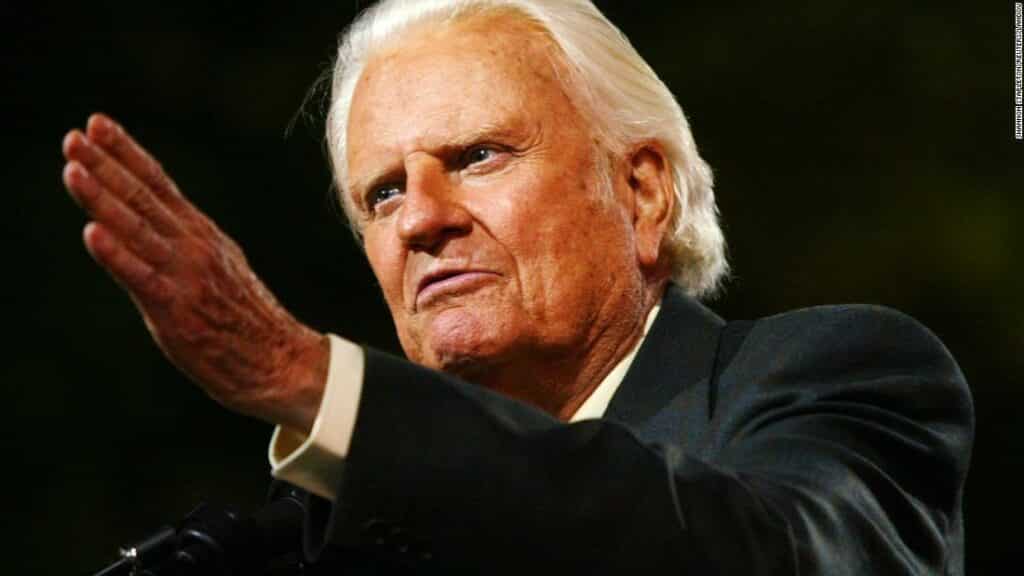 REVEREND BILLY GRAHAM DIED THIS MORNING AT THE AGE OF 99, HE WAS CREDITED WITH BRINGING THE BORN-AGAIN MOVEMENT INTO THE AMERICAN MAINSTREAM, THE INDUSTRY STARTED IN CHICAGO'S WESTERN SUBURBS. HE WAS LISTED AS ONE OF THE 100 MOST IMPORTANT AMERICANS FOR THE 20th CENTURY.
HE WAS INSPIRED AS A TEENAGER. CHRIST CAME INTO MY LIFE AND TRANSFORMED ME. BILLY GRAHAM'S CRUSADE CAUGHT FIRE. STEM FROM THE FACT THAT WE AS A HUMAN RACE STAND FOR ALMIGHTY GOD. REFERRED TO AS THE UNOFFICIAL WHITE HOUSE CHAPLAIN, RICHARD NIXON WAS A CLOSE FRIEND. GEORGE BUSH CALLED GRAHAM TO THE WHITE HOUSE THE NIGHT BEFORE HE LAUNCHED THE FIRST GULF WAR. YOUNGER PRESIDENT BUSH CREDITS GRAHAM WITH TURNING HIM AWAY FROM DRINKING AND TOWARD EMBRACING GOD. DON'T LET ANYBODY EVER TELL YOU IT IS WHITE OR BLACK.
CHRIST BELONGS TO ALL PEOPLE. MILLIONS ATTENDED GRAHAM'S EVANGELICAL CRUSADES, PURCHASED HIS BOOKS, READ HIS MONTHLY MAGAZINE. HIS COLUMN APPEARED IN 200 NEWSPAPERS AND HIS WEEKLY RADIO PROGRAM WAS CARRIED ON 700 RADIO STATIONS. IN LATER YEARS HE TEMPERED HIS VIEWS ON THE AUTOMATIC DAMNATION OF NON-CHRISTIANS. A FRAIL BILLY GRAHAM HONORED BY THREE FORMER PRESIDENTS AT THE DEDICATION OF HIS LIBRARY IN CHARLOTTE. SHORTLY AFTERWARD HIS WIFE OF 60 YEARS RUTH BELL GRAHAM DIED AND WAS BURIED ON THE LIBRARY GROUNDS. BILLY GRAHAM TOLD HIS CHILDREN AND GRANDCHILDREN THAT HE WAS LOOKING FORWARD TO THE NEXT SERVICE. WHEN HE WOULD BE BURIED AT HER SIDE. MY FATHER BILLY GRAHAM. HE LIVED TO CELEBRATE HIS 95th BIRTHDAY AT A PARTY WITH 900 GUESTS.