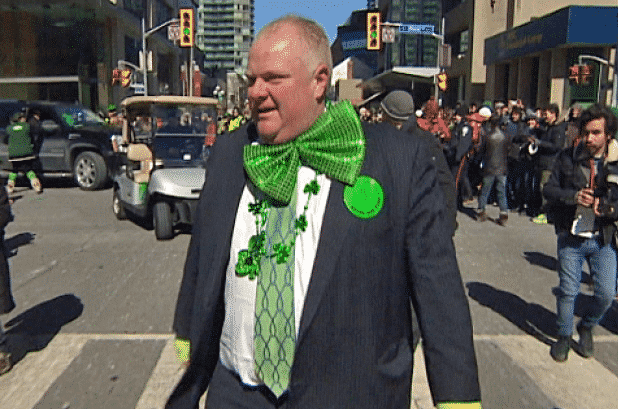 Ford died this morning after battling cancer since 2014. His death was confirmed by his chief of staff Dan Jacobs, who issued the following statement:
"With heavy hearts and profound sadness, the Ford family announces the passing of their beloved son, brother, husband, and father, Councillor Rob Ford earlier today at the age of 46. 
A dedicated man of the people, Councillor Ford spent his life serving the citizens of Toronto. 
The family asks that you respect their privacy and join them in their grieving and their prayers. 
The family will not be making any statements to the media or taking any questions. Information will follow at a later time regarding memorial services.

Over his decade and a half in municipal politics, Ford won a devoted following for being a straight talker who championed the average taxpayer."
He was equally defined by his apparent contradictions: a millionaire with a working-class attitude; a cost-cutting crusader who promoted subway expansion over less expensive transit solutions; and a man who while serving as mayor often seemed more interested in coaching high school football.
It was a testament to his common touch that even as Ford faced a growing number of controversies related to drug use, public drunkenness and racist and sexist comments, many voters in the so-called "Ford Nation" continued to stand by him.
He, in turn, remained committed to them.
"I have made mistakes and all I can do right now is apologize for those mistakes," Ford said at a news conference in June 2014, after a two-month stint in rehab.
"I love the work that I do and I'm going to keep doing it. I want to keep working for the people of this city."
From businessman to politician
Ford had everyman appeal despite having less-than-humble beginnings himself. He and his brothers worked for Deco Labels & Tags, the multimillion-dollar family business founded by his father, Doug Ford, Sr.
The senior Ford later served as an Ontario MPP, a posting that inspired Rob and his brother Doug's entry into municipal politics.
Rob Ford was elected councillor for Ward 2 Etobicoke North, a suburb in Toronto's west end, in 2000, and gained a reputation as a brash populist and cost-cutting crusader.
Ford was so committed to addressing the concerns of his constituents that he made an effort to return every phone call personally, even going so far as to give out his home number.
He showed his dedication to the community in other ways, too — for example, by hosting the annual Ford Fest summer barbecue, a free event open to the public, and by coaching a local high school football team.
While his candid talk led to clashes with some of his fellow councillors, Ford gained a following for trying to reduce bureaucratic waste and show "respect for the taxpayers."

His promise to "stop the gravy train" at city hall became the central mantra of his 2010 mayoral campaign and ultimately lifted him to victory. Ford became mayor of Canada's biggest city by taking 47 per cent of the vote and outpacing his closest competitor by 10 points.
Personal distractions
Despite this electoral triumph, Ford's stint as mayor was contentious almost from the beginning, partly because of his politics and partly because of the increasing distractions of his personal life.
Ford's conservatism and criticism of "downtown elites" split council into opposing camps, which led to acrimonious debates, and often stalemates, on everything from budget cuts to union negotiations.
One of Ford's biggest preoccupations was subways, which led to many council fights over transit expansion, which he insisted could not happen without more subways.
City council under Ford nonetheless introduced a number of significant changes, including the repeal of the dreaded vehicle registration tax, outsourcing garbage collection in the city's west end and a deal with city workers that averted a strike.
At the same time, he was hit with a number of scandals, including a forensic audit of his campaign finances that found he had exceeded the authorized campaign spending limit by more than $40,000.
Another series of controversies involved his commitment to a high school football team in his constituency.
Football was a life-long passion for Ford. In addition to volunteering as coach of the Don Bosco Eagles, he established the Rob Ford Football Foundation, which provided funding and equipment to underprivileged youth.
His love of the game eventually led to a number of controversies, including an incident in November 2012 in which a TTC bus was rerouted in order to pick up Don Bosco players after a game. Ford insisted he had "nothing to do" with it.
That same month, a judge ordered that the mayor he removed from office after ruling that by sending letters to lobbyists requesting donations to his football foundation, Ford had violated the Municipal Elections Act. (Ford appealed and won.)
While Ford managed to weather those controversies, things became more serious in May 2013, after reports emerged of a cellphone video that showed Ford smoking crack cocaine.
A person claiming to have filmed the video showed it to reporters from the Toronto Star and U.S. gossip site Gawker and offered to sell it for "six figures."
Ford staunchly denied that he smoked crack and questioned the existence of the footage, which prompted Gawker to begin a crowd-funding campaign to buy the video.
International celebrity
The story not only made Ford an international celebrity and the object of mockery on late-night talk shows, but it also triggered a criminal investigation, which eventually led police to acquire a copy of the video.
After months of denying he was in the video, Ford confessed in November 2013 to having smoked crack, adding that it had likely occurred during one of his "drunken stupors."
Despite the acknowledgment, Ford refused to step down as mayor.
Ford also called on then Toronto police chief Bill Blair to release the video so Torontonians could judge the severity of the footage for themselves.
Concerns about Ford's health and personal relationships led council to vote in favour of cutting his mayoral budget and hand many of his duties to Deputy Mayor Norm Kelly.
In the months that followed, the controversy intensified with the release of other unflattering videos, including one in which Ford is seen shouting obscenities and using threatening language and another in which he appears inebriated and speaks in a Jamaican patois.
Meanwhile, Toronto police investigated Ford's connections with Sandro Lisi, who was charged with extortion for what police say were efforts to recover a video that purportedly shows Ford smoking crack.
In February 2014, Robyn Doolittle, one of three reporters to have seen the original crack video, published Crazy Town, her book-length account of the Ford scandal.
In April, after the emergence of a second video allegedly showing Ford smoking crack, the mayor announced he was taking a two-month leave of absence to seek rehabilitation for drug and alcohol abuse.
The cancer diagnosis
Ford returned to work in June. Despite his admitted problems, he continued to enjoy significant support in the 2014 mayoral election campaign. But in mid-September, Ford was diagnosed with a rare but aggressive type of malignant tumour in his abdomen.
As a result, he pulled out of the running for mayor, and instead ran as a councillor in Ward 2 while his brother, Doug, the existing councillor for Ward 2, joined the mayoral race in his stead.
In the Oct. 27 municipal election, Rob Ford handily won the seat for Ward 2, while his brother lost to John Tory in the mayoral race.
In May 2015, doctors removed a tumour from Rob Ford's abdomen. According to Ford aide Dan Jacobs, doctors at the time said they saw no signs of other tumours.
Ford kept a relatively low profile until the latter stages of the 2015 federal election campaign in October, when he was seen campaigning with Conservative Leader Stephen Harper.
This coincided with the release of two new books about Ford, including one by Mark Towhey, a former chief of staff, which recalled a phone call to Towhey in which Ford talked about "putting three bullets" in his wife Renata's head.
In the fall, Doug Ford confirmed that doctors had found two new tumours on his brother's bladder.