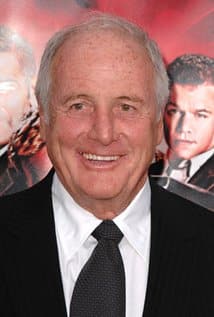 Movie producer Jerry Weintraub passed away in a hospital after suffering a bowel perforation that caused two heart attacks, it was revealed today.
The 77-year-old Hollywood heavyweight, who was behind the hit Ocean's Eleven remakes and the Karate Kid films, had fallen ill recently and was with family in Palm Springs when he died Monday.
Citing family sources, TMZ reported that Weintraub was staying at the luxurious Biltmore Santa Barbara Hotel in Montecito over the weekend.
On Saturday, he attended a barbecue celebrating the Fourth of July. A short time later, he fell ill with what he had initially thought to be food poisoning.
His condition worsened throughout the night and at 3am his longtime life partner, Susan Ekins, called an ambulance.
Doctors who examined the movie producer determined that he was suffering from a bowel obstruction – a painful condition where the patient's small or large intestine is blocked, preventing food, fluids, and gas from moving through the intestines.
A CT scan reportedly confirmed the preliminary diagnosis, but doctors concluded that the condition was not life-threatening.
Weintraub stayed in the hospital bed for 30 minutes before declaring that he wished to go home.
According to TMZ, the 77-year-old was weary of hospitals after contracting a potentially deadly infection six years prior following a back surgery.
Hospital staff informed Weintraub that they had to keep him longer for observation.
As he waited to be discharged, Jerry Weintraub appeared to be doing well and was even joking with people in his room.
At around 6am Monday, Weintraub suffered a heart attack. A repeated CT scan revealed that he had had a bowel rupture, which spread deadly bacteria throughout his body.
The ailing film producer was rushed to ICU where he suffered a second heart attack two hours later.
The New York City native was known as much for his business successes as he was for relishing the lifestyle those successes afforded him.
A Brooklyn-born telephone-wielding impresario, Weintraub fashioned himself in the mold of Mike Todd, Cecil B. DeMille and P.T. Barnum. He titled his 2011 memoir, 'When I Stop Talking, You'll Know I'm Dead.' At the time, he joked he might write another: 'Dead, But Still Talking.'
He counted among his friends President George H.W. Bush and some of Hollywood's biggest stars.
While promoting an HBO documentary about his life, His Way, Weintraub recalled a prank the Ocean's Eleven cast once played on him.
'We got on the plane and George and Brad said to me, 'Let's have a few shots of vodka.' I said, 'You kids can't drink with me. I learned from Sinatra. I'm a black belt!' And we did one bottle, two bottles, three bottles and all of a sudden I'm seeing two George Clooneys and two Brad Pitts and I said, 'Jesus, this can't be!' And they're all fine! I passed out on the couch.'
Coming to, Weintraub realized he'd been drinking vodka while his cast had been fooling him with shots of plain water.
'When I woke up I was in fog. My pants were open, my shoes were squishy, they put M&M's in every pocket of my pants, my underwear, my shoes, and they melted. I said, 'You bastards, how did you pull this off!!"
George Clooney released a statement to E! on his former colleague's death:
'In the coming days there will be tributes, about our friend Jerry Weintraub,' Clooney said in a statement obtained by E! News. 'We'll laugh at his great stories, and applaud his accomplishments. And in the years to come the stories and accomplishments will get better with age, just as Jerry would have wanted it. But not today. Today our friend died. To his family and friends, Amal and I send our love. And to those who didn't know him we send our deepest sympathy. You would have loved him.'
On Monday evening, William Friedkin, director of the Weintraub-produced 1980 Al Pacino drama Cruising, tweeted about his friend's death.
'To my great sorrow, my friend and former producer Jerry Weintraub has died suddenly. He was loved and admired. God bless him,' he wrote.
Other grieving celebrities expressed their shock on Twitter, including Larry King:
'Shocked to learn of the passing of Jerry Weintraub. I just saw him last week. This is a great loss to show business, what a legend.'
Actor Paul Riser recalled Weintraub's fun-loving personality along with his professional accomplishments.
'Just heard Jerry Weintraub has died. He was a giant and a good friend. No Jerry, no 'Diner' No 'Karate Kid'… And a lot less fun. RIP.'
The Hollywood legend started his career in the mail room of MCA records in the 1950s and would go on to represent represent such legends as Jack Parr and musical luminaries Elvis Presley, Bob Dylan and Frank Sinatra.
His other musical mega-acts included Dolly Parton, the Beach Boys, the Pointer Sisters and John Denver.
Weintraub was also successful on the small screen, having won three Emmy awards since 1975. Most recently, he received a statue for producing HBO's Liberace biopic Behind the Candelabra.
He married singer Jane Morgan in 1965 and the two were married at the time of his death, but Weintraub had for years lived with his lover Susan Ekins–with Jane's blessing.
Weintraub explained in 2010:
'We didn't get a divorce because we (he and his wife) didn't want to screw up our estate. I worked very hard for my money. I started out with nothing and ended up with a lot. She didn't want to give it away to lawyers. She said, 'Go to Susie and and ask Susie if she needs to be married.' Susie said no, and they became best friends.'
Weintraub is survived by four his four children with Jane: Michael, Julie and Jamie, who all assisted him on films. His daughter Jody is a TV producer.
Award winning producer Jerry Weintraub died today he was 77