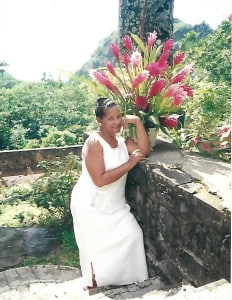 With profound sadness, I write this post as a tribute to Mona George Dill, my first friend on Dominica.  She departed this earthly life and ascended to heavenly paradise on Sunday, October 30, 2016.
She is she to whom I give credit for guiding me during my early days in Dominica and helping me understand a culture very different from my own.
Perhaps it was serendipity that brought us together in 1997.  I was looking for a place to live that would give me an improved quality of life, as I had been suffering from severe environmental health challenges in Canada for several years.  When I started to research other countries that offered clean air, food, and water, I rigorously quizzed Mona, who was at that time the Manager of Springfield Plantation Guest House and a research institute called SCEPTRE, under the auspices of Clemson University in the United States.  Before I even set foot on Nature Island, she informed me of her pro-environmental approach to maintaining the entire estate. She assured me that she would do her best to ensure my comfort and well-being during my initial stay.
When I finally arrived at Springfield around the end of March 1997, after spending several hours traveling from Bequia, St. Vincent, and the Grenadines by LIAT planes that s sprayed with insecticide at every stop, I could barely hold my head up and was extremely nauseous. As I stepped out of the taxi after a  winding 20-minute drive into the mountains from the Canefield Airport, Mona warmly greeted me and showed me to my room, which overlooked the Antrim Valley down to the Caribbean Sea.  It was bright and breezy, and the air smelled clean and fresh on the edge of the rainforest.  I'll never forget the concerned look on her face when I told her that everything seemed fine but that I would appreciate removing an area rug due to my allergies.  I immediately took it out. Full story