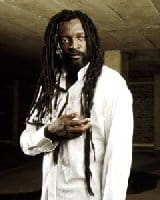 South African reggae musician Lucky Dube has been shot dead by armed robbers in Johannesburg. BBC News website readers react to his death and share their memories.
The death of the reggae star has shocked the entire world. I really love his music. I shall always treasure the memory of times I shared with my colleagues listening to his music. The superstar is gone, but he will always be remembered. The culprit shall never have blessing on this earth, and they shall never see heaven. They will continue to suffer for the rest of their natural life. May the almighty God have mercy on him and forgive him his sins, and also take care of his family.
Kemo Sisawo, Banjul, Gambia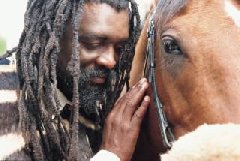 It is said that as South Africans, we keep robbing ourselves of our best talent. In Lucky Dube, we have let go of our finest, and it is a tragedy. In a society devoid of role models, Dube was more than just a musician. He represented what is best of the spirit of humanity: talent, valor, integrity, commitment to self and family, but above all, love and peace for all. His death severely saddens me.
MJ Mokoala, Cape Town, South Africa
I have been shocked about his demise, more especially through assassination. However, his songs are very inspirational to Africa and those inflicted by different social, political, and economic problems the world over. SA Government must realize the cost of the high crime rate.
Malenga Mayenda, Blantyre, Malawi
Dube was an inspiration to our continent. He is in the same league as Mandela in the struggle for a free South Africa and Africa. Dube might have been killed, but his legacy will continue.
George Gichuru, Nairobi, Kenya
It's sad news indeed. We have lost a politically and socially conscious artist who fought tooth and nail against apartheid and social ills against the South Africans. We shall MISS Lucky Dube!!! May his soul Rest in Peace!!
Charles Bongomin, The Hague, Netherlands
His was one of the sweetest voices in reggae – blending soul, roots, and romance with an underlying spiritual sadness – one of the greats, and his death is a great loss.
Mungo, Istanbul
We in Seychelles have learned the sad news about Lucky; Lucky came to Seychelles in 1994 to perform.
Ruth Port-Louis, Republic of Seychelles
Lucky Dube was a Great South African. He had always been an inspiration to me, forever free to speak his mind, something that made him deeply unpopular with politicians in this country.
Cuan, Cape Town, South Africa
What a sad and painful Thursday!! I am a 27-year-old black South African girl. I have dreadlocks, and I love reggae music so much, and I am proud to be who I am, black and African. I will miss Lucky Dube; you are an inspiration to many of us.
Sibongile Diko, Durban, South Africa
Rastas may never die, but our country will if the ANC does not wake up. We are losing our role models, artists, mentors, and teachers at a horrific rate—shame on the government.
Marc Burman, Johannesburg, South Africa
Lucky really inspired me with his music; each time I listen to the word of his music, I feel different; whoever shot Lucky has done nothing but a barbaric act.
Ndubuisi Ikpo, Abuja, Nigeria
He will always be missed as a great musician and a pan-Africanist, especially for his love for the children and the suffering people in Africa. I will always remember him when in Uganda he said he loved Ugandans so much. Abitekaniza Denis, Kampala, Uganda
Very sad indeed!!! Africa's best reggae artist just got murdered! It is time African governments woke up and dealt with insecurity fuelled by poverty and lack of employment.
In 1990, I remembered during the rebel incursion in Liberia, and I found myself in NPFL territory control by Charles Taylor, the rebel leader. The rebels maltreated me. In that condition, I heard his music for the first time.
Sam G Mabiah, Paynesville, Liberia
Lucky Dube was my favorite reggae artist. I mostly loved his songs of inspirations, his energy while on stage, his smile, his unique reggae beats…etc. The list is endless.
Omongole Patrick, Kampala, Uganda
The Rastas never die. They killed a man but failed to kill a Rastaman. The best revenge is a strong tolerance and commitment to peace and love.
Siwane Massango, Maputo, Mozambique
I was cycling to work this morning listening to Prisoner – feeling a little melancholy – missing home. But the music pulled me out of the depths of despair, and my focus drifted to the sunrise and sun's rays striking Big Ben and my holiday in Dec back home to sunny South Africa! Lucky will always be there – his music brightening up the day!
Charles, London
I will not tell this sad news to my five years old daughter. She loves Dube's album " prisoner "and memorized it very well. However, she will be psychologically affected if this is true news.
Robert Odeki, Colorado, US
I have photographed a few of his performances and backstage interviews for some local Reggae magazines in Houston, Texas, and in Miami, Florida. My collection includes some fantastic pictures taken at the Lone Star Amphitheatre in Houston, Texas, in June 1993 with the Slaves, and at the Cameo Club in Miami in July 1997 with the then-new band. Surely I will miss him.
Tring, Houston, Texas, US
"Lucky Dube was probably the greatest reggae artist in all of Africa; in fact, I have heard people say he is the King of Reggae. So his violent, untimely death doesn't surprise me. I lived a few years in Hillbrow, Johannesburg, but left the country in a hurry after a stray bullet missed my ear by an inch, but hit a friend standing opposite me in the forehead".
Dandy Ahuruonye, Dublin, Ireland