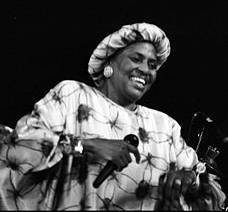 Zenzile Miriam Makeba was born in Johannesburg in 1932. Her mother was a Swazi sangoma and her father, who died when she was six, was a Xhosa. As a child, she sang at the Kilmerton Training Institute in Pretoria, which she attended for eight years.
Makeba first toured with an amateur group. Her professional career began in the 1950s with the Manhattan Brothers, before she formed her own group, The Skylarks, singing a blend of jazz and traditional melodies of South Africa.
In 1959, she performed in the musical King Kong alongside Hugh Masekela, her future husband. Though she was a successful recording artist, she was only receiving a few dollars for each recording session and no provisional royalties, and was keen to go to the US. Her break came when she starred in the anti-apartheid documentary Come Back, Africa in 1959 by independent filmmaker Lionel Rogosin. She attended the premiere of the film at the Venice Film Festival.
Makeba then travelled to London where she met Harry Belafonte, who assisted her in gaining entry to and fame in the United States. She released many of her most famous hits there including "Pata Pata", "The Click Song" ("Qongqothwane" in Xhosa), and "Malaika". In 1966, Makeba received the Grammy Award for Best Folk Recording together with Harry Belafonte for An Evening With Belafonte/Makeba. The album dealt with the political plight of black South Africans under apartheid.
She discovered that her South African passport was revoked when she tried to return there in 1960 for her mother's funeral. In 1963, after testifying against apartheid before the United Nations, her South African citizenship and her right to return to the country were revoked. She has had nine passports, [2] and was granted honorary citizenship of ten countries.
Her marriage to Trinidadian civil rights activist and Black Panthers leader Stokely Carmichael in 1968 caused controversy in the United States, and her record deals and tours were cancelled. As a result of this, the couple moved to Guinea, where they became close with President Ahmed Sékou Touré and his wife. Makeba separated from Carmichael in 1973, and continued to perform primarily in Africa, South America and Europe. She was one of the African and Afro-American entertainers at the 1974 Rumble in the Jungle match between Muhammad Ali and George Foreman held in Zaïre. Makeba also served as a Guinean delegate to the United Nations, for which she won the Dag Hammarskjöld Peace Prize in 1986.
After the death of her only daughter Bongi Makeba in 1985, she moved to Brussels. In 1987, she appeared in Paul Simon's Graceland tour. Shortly thereafter she published her autobiography Makeba.
Nelson Mandela persuaded her to return to South Africa in 1990. In November 1991, she made a guest appearance in an episode of The Cosby Show, entitled "Olivia Comes Out Of The Closet". In 1992 she starred in the film Sarafina!, about the 1976 Soweto youth uprisings, as the title character's mother, "Angelina." She also took part in the 2002 documentary Amandla!: A Revolution in Four-Part Harmony where she and others recalled the days of apartheid.
In January 2000, her album, Homeland, produced by Cedric Samson and Michael Levinsohn was nominated for a Grammy Award in the "Best World Music" category[5]. In 2001 she was awarded the Gold Otto Hahn Peace Medal by the United Nations Association of Germany (DGVN) in Berlin, "for outstanding services to peace and international understanding". In 2002, she shared the Polar Music Prize with Sofia Gubaidulina. In 2004, Makeba was voted 38th in the Top 100 Great South Africans. Makeba started a worldwide farewell tour in 2005, holding concerts in all of those countries that she had visited during her working life.]
Her publicist notes that Makeba had suffered "severe arthritis" for some time.
On 9 November 2008, she became ill while taking part in a concert organized to support writer Roberto Saviano in his stand against the Camorra, a mafia-like organisation. The concert was being held in Castel Volturno, near Caserta, Italy. Makeba suffered a heart attack after singing her hit song "Pata Pata"[7], and was taken to the "Pineta Grande" hospital where doctors were unable to revive her.[8][9][10][7] In his condolence message, former South African president Nelson Mandela said it was "fitting that her last moments were spent on a stage, enriching the hearts and lives of others – and again in support of a good cause."