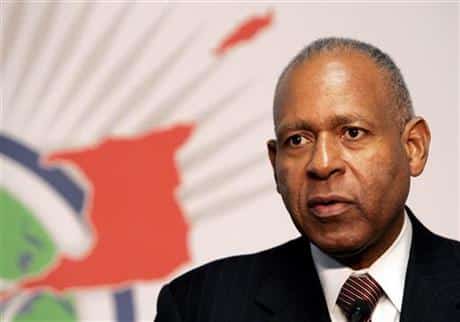 PORT-OF-SPAIN, Trinidad and Tobago (AP) — Patrick Manning, a geologist who led the resource-rich Caribbean nation of Trinidad and Tobago as prime minister through a boom in its petrochemical sector until his party was defeated amid rising crime and corruption, has died. He was 69.
Manning died Saturday morning at the San Fernando General Hospital after battling acute myeloid leukemia, his family said in a statement on his official Facebook page.
He was prime minister of the twin-island country from 1991-95 and 2001-10.
Born to poor parents in 1946 in San Fernando, the country's industrial capital, Manning was a child when Trinidad and Tobago moved toward independence from Britain in 1962.
Manning had said his family was so poor that he regularly wore shirts sewn from flour sacks. In July 2009 comments to the Trinidad & Tobago Express, he recalled his mother making him wear one of his sister's frilled blouses one day when he no longer had any shirts for school.
He excelled as a student and earned a degree in geology at Jamaica's campus of the University of the West Indies, then worked as a refinery operator and later a geologist in Trinidad for the U.S. oil company Texaco.
Trinidad began producing petrochemicals for export in 1959, three years before independence from Britain. The industry has blossomed in the ensuing decades, and natural gas and petroleum products have been the leading exports in recent years.
Manning decided to change his career track to politics in 1971 under the tutelage of black nationalist Eric Williams, who was the country's first prime minister and founded the People's National Movement. Williams attempted to create a national movement, but the party never attracted support from the descendants of migrants from India, who comprise more than 30 percent of the population.
Manning was a junior minister in Williams' government before he was named minister of energy in 1981. The People's National Movement lost power in 1986 amid economic decline and accusations of corruption as oil prices fell and the currency was devalued.
Manning emerged as the party's political leader in 1986, taking one of only three seats its candidates won in the general elections that year.
He was credited with rejuvenating the party, especially after the black Muslim Jamaat al Muslimeen staged a violent coup attempt, killing 24 people and briefly holding the Cabinet hostage before surrendering.
In the 1991 elections, Manning led the People's National Movement to defeat then-Prime Minister Arthur N.R. Robinson's National Alliance for Reconstruction.
Manning's first government stabilized the currency and further developed the gas sector, fueling strong economic growth. His administration also was hit by accusations of public corruption.
He lost power in 1995 to rival Basdeo Panday, ending decades of political power wielded by black Trinidadians as the country's first leader of Indian descent took control.
In December 2001, Manning was selected as prime minister by Robinson. The ceremonial president of Trinidad and Tobago, after his party and the United National Congress, each won 18 seats in the 36-member House of Representatives. But unable to gain a majority to elect a speaker of the house, Manning was forced to hold fresh elections after nine months. His party won the 2002 elections, and he continued as prime minister.
Manning repeatedly pledged unity to the country, but many of the country's roughly 1.3 million people remain deeply divided along ethnic lines.
Manning's popularity fell during his final years as prime minister amid scandals and rising crime. His People's National Movement lost the general elections in May 2010. Manning kept his seat in the House of Representatives but was ousted as party leader.
He was hospitalized in January 2012 after suffering a stroke.
Manning is survived by his wife, Hazel-Ann, and their two sons. The family said funeral arrangements were pending.
___
Jabari Fraser contributed to this story from Port-of-Spain.
Source: http://bigstory.ap.org