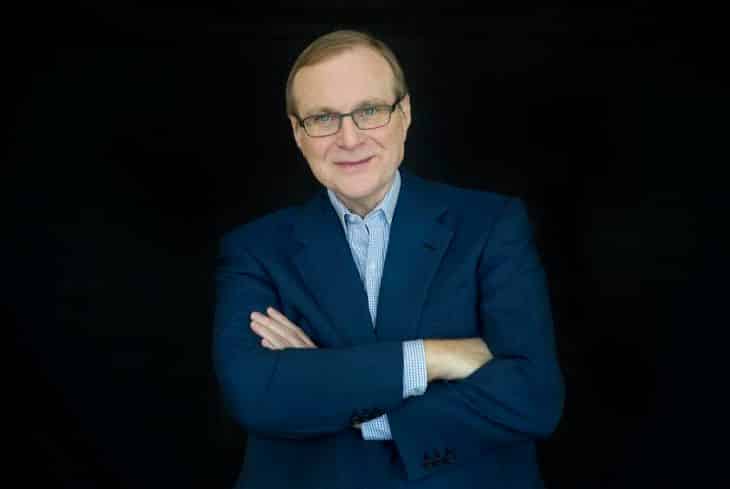 Paul Allen Microsoft co-founder is dead at age 65 from complications of non-Hodgkin's lymphoma.
He had revealed the disease's return only two weeks ago, after previously being treated for it in 2009.
He had said he and his doctors were "optimistic" about treatment.
His Microsoft co-founder Bill Gates said: "I am heartbroken by the passing of one of my oldest and dearest friends… Personal computing would not have existed without him."
In a statement confirming his death on Monday afternoon, his sister Jody described the businessman as a "remarkable individual on every level."
"Paul's family and friends were blessed to experience his wit, warmth, his generosity, and deep concern. For all the demands on his schedule, there was always time for family and friends," the statement said.
"At this time of loss and grief for us – and so many others – we are profoundly grateful for the care and concern he demonstrated every day."
The businessman made his fortune alongside school friend Bill Gates after they co-founded technology giant Microsoft in 1975.
"From our early days together at Lakeside School, through our partnership in the creation of Microsoft, to some of our joint philanthropic projects over the years, Paul was a true partner and dear friend," said Mr. Gates.
"He deserved much more time, but his contributions to the world of technology and philanthropy will live on for generations to come. I will miss him tremendously."
More in-depth on Paul Allen
Who is Paul Allen Microsoft co-founder?
Paul Gardner Allen (January 21, 1953 – October 15, 2018) was an American business magnate, investor, and philanthropist. He co-founded Microsoft alongside Bill Gates in 1975. At the time of his death, he was estimated to be the 46th-richest person in the world, with an estimated net worth of $20.3 billion, including 100 million shares of Microsoft.
Allen was the founder and Chairman of Vulcan Inc., which manages his various business and philanthropic efforts. Allen had a multibillion-dollar investment portfolio including technology and media companies, scientific research, real estate holdings, private spaceflight ventures, and stakes in other companies. He owned two professional sports teams: the Seattle Seahawks of the National Football League[6] and the Portland Trail Blazers of the National Basketball Association and was part-owner of the Seattle Sounders FC, which joined Major League Soccer in 2009.
He was the founder of the Allen Institute for Brain Science, Institute for Artificial Intelligence, Institute for Cell Science, and Stratolaunch Systems. Throughout his lifetime, Allen gave more than $2 billion towards causes such as education, wildlife, and environmental conservation, the arts, health, and community services.
The Earlier Days
"During the founding first eight years, my ideas were key to the company. Bill would test my ideas. I would come to him with another ten ideas that never went anywhere – he was the sanity check on the flow of ideas," Allen told the Guardian in a 2011 interview. "When it came to selling and marketing and staffing and all those kinds of things, he was much more excited on the business side, so we became very complementary."
Microsoft's big break came in 1980 when IBM decided to move into personal computers. IBM asked Microsoft to provide the operating system.
The decision thrust Microsoft onto the throne of technology, and the two Seattle natives became billionaires. Both later dedicated themselves to philanthropy.
Over the course several decades, Allen gave more than $2bn to a wide range of interests, including ocean health, homelessness and advancing scientific research.
Allen invested heavily in his hometown of Seattle, helping to transform the South Lake Union neighborhood into a thriving business district.