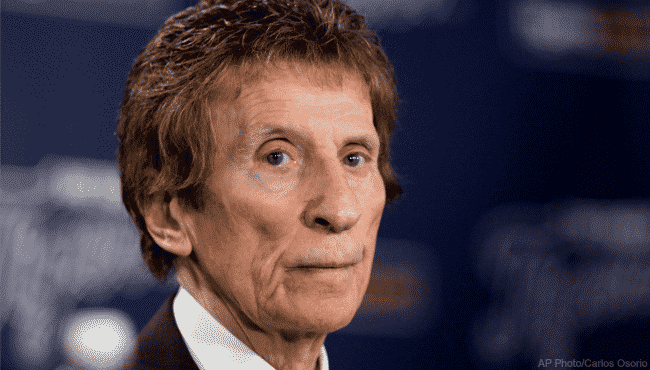 DETROIT (WWJ) — Owner of the Detroit Tigers and Detroit Red Wings, Mike Ilitch, died on Friday afternoon at the age of 87.
Olympia Entertainment confirmed Ilitch's passing at around 6:30 p.m. Friday evening.
Ilitch was born in Detroit in 1929 to Macedonian immigrants Sotir Ilitch and Sultana Tasseff Ilitch who came to the United States in 1924. He was educated in Detroit where he attended Clinton Elementary, Post Intermediate and Cooley High School, where he was an All-City athlete in baseball and track.
Upon graduation from high school in 1947, the Tigers offered him a minor league contract, but he decided instead to join the U.S. Marine Corps. Ilitch served from 1948-1952 at Parris Island, Quantico and Pearl Harbor.

After discharge from the Marines, the Tigers again offered Ilitch a minor league contract; he played shortstop in the minor league system for four seasons (1952-1955) making it to AAA and hitting over .300, until a knee injury ended his baseball career. He later worked as a door-to-door salesman until he and his wife Marian saved enough money to open the first Little Caesars in Garden City on May 8, 1959.
Ilitch bought the Red Wings in 1982 and the Tigers in 1992. The Detroit businessman was also the owner of the pizza franchise Little Caesars.
The Ilitch organization will continue its District Detroit project under his son, Christopher Ilitch's, leadership, transforming dozens of blocks of largely vacant land in Downtown Detroit into a dynamic, vibrant area for everyone in the community to enjoy. The District Detroit will include office, retail and residential spaces, as well as the new Little Caesars Arena. The $1.2 billion project is expected to have a $2.1 billion total economic impact on Detroit, the region and Michigan.
"My father was a once-in-a-generation entrepreneur, visionary and leader, setting the tone for our organization and our family," Christopher Ilitch said in a statement. "He made such a positive impact in the world of sports, in business and in the community, and we will remember him for his unwavering commitment to his employees, his passion for Detroit, his generosity to others and his devotion to his family and friends. Together my family and the company celebrate the tremendous man he was, and we will continue to work hard to uphold his remarkable legacy. I'm honored to have had the opportunity to work with him to nurture and grow our businesses, but mostly, I'm grateful to have called him my Dad, and I know my siblings feel the same."
The family will honor Ilitch at a private funeral service. An opportunity for members of the public to pay their respects is also being planned. Details will be announced as soon as they are finalized.