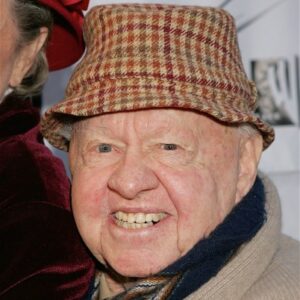 Mickey Rooney was born Joe Yule Jr. on September 23, 1920, in Brooklyn, New York. He first took the stage as a toddler in his parents vaudeville act at 17 months old. He made his first film appearance in 1926. The following year, he played the lead character in the first Mickey McGuire short film. In this popular film series, he took the stage name, Mickey Rooney. Rooney reached new heights in 1937 with A Family Affair, the film introducing the country to Andy Hardy, the popular all-American teenager. This beloved character appeared in nearly 20 films and helped make Rooney the top star at the box office in 1939, 1940 and 1941. Rooney also proved himself an excellent dramatic actor as a delinquent in Boys Town starring Spencer Tracy. In 1938, he was awarded a juvenile Academy Award.
Teaming up with Judy Garland, Rooney also appeared in a string of musicals, including Babes in Arms (1939), the first teenager to be nominated for an Oscar in a leading role, Strike up the Band (1940), Babes on Broadway (1941), and Girl Crazy (1943). During that time, he also appeared with Elizabeth Taylor in the now-classic National Velvet (1944). He and Garland immediately became best of friends. "We weren't just a team; we were magic," Rooney once said.
Rooney joined the service that same year, where he helped to entertain the troops and worked on the American Armed Forces Network. He returned to Hollywood after 21 months in Love Laughs at Andy Hardy (1946), did a remake of a Robert Taylor film, The Crowd Roars called Killer McCoy (1947) and portrayed composer Lorenz Hart in Words and Music (1948). He also appeared in Breakfast at Tiffany's (1961), starring Audrey Hepburn and George Peppard. Rooney played Hepburn's Japanese neighbour, Mr. Yunioshi. A sign of the times, Rooney played the part for comic relief, which he later regretted feeling the role was offensive.
In the late 1960s and 1970s, Rooney showed audiences and critics why he was one of Hollywood's most enduring stars. He again showed his incredible range in the dramatic role of a boxing trainer with Anthony Quinn and Jackie Gleason in Requiem for a Heavyweight (1962). He gave an impressive performance in Francis Ford Coppola's 1979 film The Black Stallion, which brought him an Academy Award nomination as Best Supporting Actor. He also turned to the stage in 1979 in Sugar Babies with Ann Miller and was nominated for a Tony Award. During that time, he also portrayed the Wizard in The Wonderful Wizard of Oz with Eartha Kitt at New York's Madison Square Garden, which also had a successful run nationally.
In 1981, Rooney won an Emmy Award for portraying a mentally challenged man in Bill. The critical acclaim continued to now for the veteran performer, with Rooney receiving an honorary Academy Award "in recognition of his 60 years of versatility in various memorable film performances". Rooney appeared in four television series': The Mickey Rooney Show (1954-1955), a comedy sit-com in 1964 with Sanunee Tong called Mickey, One of the Boys in 1982 with Dana Carvey and Nathan Lane, and the Adventures of the Black Stallion from 1990-1993. More recently, he has appeared in such films as Night at the Museum (2006) with Ben Stiller and The Muppets (2011) with Amy Adams and Jason Segel.
Rooney's personal life, including his frequent trips to the altar, has proven to be just as epic as his on-screen performances. His first wife was one of the most beautiful women in Hollywood, actress Ava Gardner. Mickey permanently and legally separated from his eighth wife, Jan, in June of 2012. In 2011 Rooney filed elder abuse and fraud charges against stepson Christopher Aber and Aber's wife. At Rooney's request, the Superior Court issued a restraining order against the Aber's demanding they stay 100 yards from Rooney, Mickey's stepson Mark Rooney and Mark's wife, Charlene. Just prior, Rooney mustered the strength to break his silence and appeared before the Senate in Washington D.C., telling of his own heartbreaking story of abuse to live a peaceful, full life and help others who may also be suffering in silence.
Once again, Mickey Rooney has proven that he is a survivor and shows no signs of slowing down or retiring. Rooney requested through the Superior Court to permanently reside with his son Mark (a musician) and Charlene Rooney (an artist) in the Hollywood Hills. Ironically, after eight failed marriages, he has never looked or felt better and has finally found happiness in a single life.