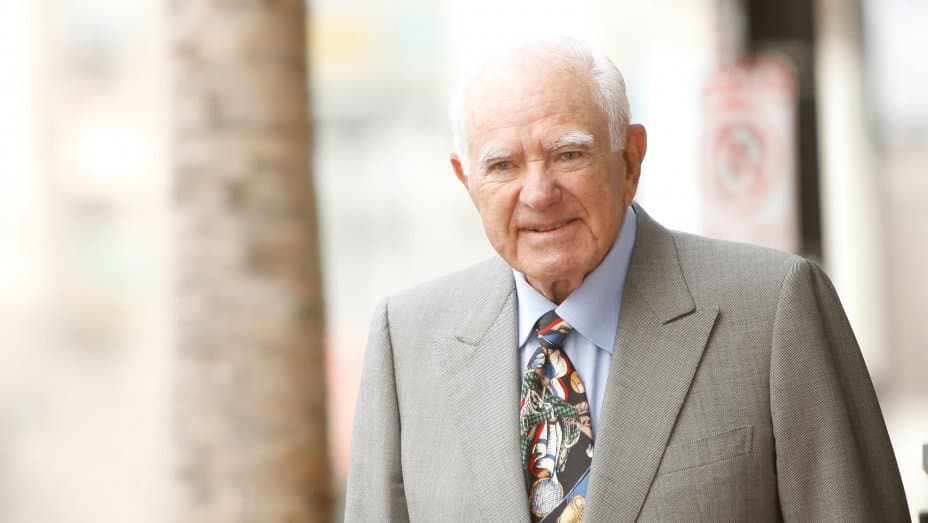 Joseph Wapner, the real-life retired judge who presided over the syndicated court show The People's Court for more than a decade, died Sunday. He was 97.
Wapner's son David told the Associated Press that his father was suffering from breathing problems and admitted to a hospital last week. He returned home Friday with hospice care.
Warner was a retired Los Angeles Superior Court judge when The People's Court debuted in September 1981. It ran for 12 seasons and sparked a slew of other court shows in syndication. It still airs today, with Judge Marilyn Milian sitting on the bench.
"As TV's first judge, Judge Wapner blazed the trail for a the genre of court shows still thriving and in the pop culture zeitgeist some three decades later. We mourn his Honor's passing and celebrate his full life," said Warner Bros. Domestic TV Distribution, which distributes the show, in a statement.
Wapner served the L.A. Superior Court from 1961-79 after two years as a municipal judge. He was recommended for The People's Court by another superior court judge, Christian Markey, who had been approached by producer Ralph Edwards.
Markey was not about to retire to go on television but told Edwards that Wapner would be perfect for the job.
A 1989 poll conducted by the Washington Post showed that while only 9 percent of people could name the chief justice of the U.S., 54 percent knew that Wapner was the guy on The People's Court.
"When The People's Court came along, I had an opportunity to really teach people about law," he said in a 2005 interview with the Archive of American Television. "It was very important to me."
He received four Daytime Emmy nominations for his work and got a star on the Hollywood Walk of Fame.
Wapner appeared three times on The Tonight Show Starring Johnny Carson. In one bit, he heard a mock dispute between the host and David Letterman. It seems Letterman had parked his beat-up red truck in front of Carson's house, and Carson had it towed away. Letterman claimed damages of $29 to the truck and sued Carson; Wapner ruled in favor of Letterman.
The People's Court was referenced a great deal in Rain Man (1988) — Dustin Hoffman was said to be a big fan of the show — and from 1998-2000, Wapner presided over another TV show, Animal Court.
Born in Los Angeles, Wapner attended Hollywood High and then USC, where he got his undergraduate degree and then, in 1948, his law degree. He served during World War II, practiced law with his father, opened his own firm and was appointed to the bench by California Gov. Pat Brown in 1959
Source: Hollyreporter.com