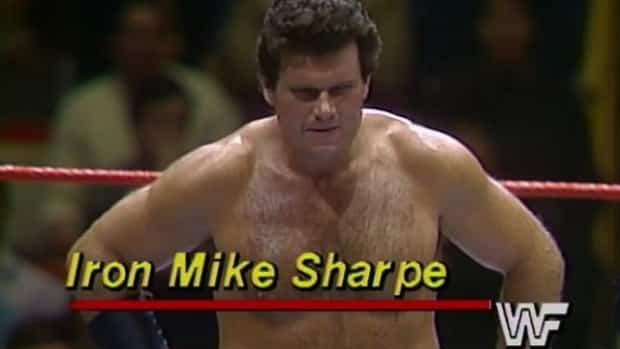 Iron Mike Sharpe, the former professional wrestler  has died at age 64, the WWE announced on Monday morning.
The Hamilton native was managed by WWE Hall of Famer Captain Lou Albano and used the mysterious — and often loaded — black brace on his right forearm to defeat opponents.
Sharpe's winning ways were enough to earn him a WWE championship match against Bob Backlund in Philadelphia in April 1983, four months after his WWE debut.
Although he called himself "Canada's Greatest Athlete" he transitioned into being a so-called "enhancement talent," after that title shot, losing to bigger stars in the late 1980s and early 1990s.
Sharpe then regularly competed on and off for both WWE and New Japan Pro Wrestling. Sharpe's final WWE match was in 1995.
Following his retirement, Sharpe opened a wrestling school in Brick, N.J., where he trained many aspiring competitors. His students included former WWE superstars Charlie Haas and Simon Dean (also known as ECW's Nova), as well as WCW superstar Crowbar.

Sharpe comes from a family legacy of wrestling, as his father and uncle were a successful tag team in the 1950s, recognized as champions from San Francisco to Japan. He grew up in California, but moved with his father back to Canada as a teenager. In high school, he dabbled in boxing and weightlifting before choosing to follow in his father's footsteps.
Dewey Robertson trained him for the ring at age 25 and shortly thereafter Sharpe made his mark wrestling for promotions around Canada such as Gene Kiniski's NWA All Star Wrestling. He became a two-time NWA Canadian Tag Team Champion, partnering first with Moose Morowski and later with Salvatore Bellomo, and also won the Pacific Coast Heavyweight title. His career picked up steam after moving to Louisiana, where he became a fan favorite and won two different Mid-South Wrestling belts – Louisiana champion (two times) and the Mississippi title (also two times) along with a Brass Knucks title in 1979.
In January 1983, Sharpe entered the World Wrestling Federation where he would spend the rest of his in-ring career until his retirement in 1995. He was a regular of WWF programming throughout the mid-1980s and early 1990s. He was announced and self-proclaimed as "Canada's Greatest Athlete" (a nickname taken from Kiniski) and was further distinguished by his near-constant yelling and grunting throughout a match, as well as a mysterious black brace on his right forearm, supposedly protecting an injury but more widely believed to contain a foreign object. Initially in his WWF career he was managed by Captain Lou Albano and received a sizeable push, regularly defeating jobbers after smashing them with said forearm. This culminated on April 30, 1983 with a match against world heavyweight champion Bob Backlund at the Philadelphia Spectrum, but Sharpe was defeated and would never reach such main event heights again. In fact, Sharpe would never hold a title for the promotion, and was primarily used as a jobber to rising WWF stars in television tapings.