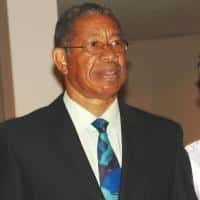 On November 3rd, my dad, Dominica's "adopted" son left this world, perhaps most appropriately on the birthdate of the Nation he had come to love and serve. He asked not to be eulogized, but I think there have been some beautiful things said by friends and well-wishers that he would have liked. So here are some thoughts and memories from the people he befriended, inspired and supported. Thank you friends for all your kind words and support as we bid him farewell.
Lennox Linton: I was privileged to know him and to appreciate the purity of his love and admiration for his wife and children who are left to mourn his passing. A patriot at heart; a kind, gentle soul; a generous giver to the causes that needed assistance; a light of encouragement for the faithful who stumbled; an accomplished practitioner in the art of enlightening conversation; a caring part of the human heart. May his soul rest in peace.
Alexis Mariano Green: He was a quiet and loving spirit who spoke his truth quietly and without wavering. He was patient when there were 15 of us in his living room doing homework and goofing off. he raised two lovely daughters who continue to brings smile to those they enounter. What other measure could there be of a great man? Surround yourself in good memories and thank God for having had him, may he RIP.
Tea Payne: Celebrate his life; Remember the good man, father, and husband that he was for he is in a much better place. My condolences to u, Jeanel and ur mom. God bless!
Ernie Charles-Harris: Heartfelt condolences to the entire Georges family! He was a good, good friend to my Dad, who I know will welcome with open arms into the Kingdom of Heaven! RIP
Chris Roberts: I also had the privilege of working with Bernard Georges on a number of projects. I am surprised and saddened by his passing. A stark reminder of the flicker our lives really are in the grand scheme of things but some sparks create a lasting fire.
Hector John: I had the privilege to work with Mr Georges during the early years of Showdown Mas Camp. He was a thoughtful, encouraging and humble gentleman. May his soul Rest In Peace.
Fred White: Hold strong. He and I worked at the same firm for some time. He was always that friendly person to talk with especially since he loved a good conversation. Accept my deepest sympathy to you and the rest of the surviving family. May GOD BLESS.
Elwin Ross: RIP Bernard. To Mary and the children, my heartfelt condolences. A true and genuine individual, co worker and associate for over 30 years. May God' bless and strenghten the family at this time of loss.
Alexander Stephenson: RIP Mr. Georges. My very first Computer teacher way back in 1985 summer school The man who taught me how to back up and shut down National Bank's computer system The man who invited me to join Kiwanis Club in 1994. Bernard's life was about SERVICE – football/boxing/bodybuilding/calypso/organising school debates. The only businessman I ever knew that boasted about his staff.