"American Idol" finalist Michael Johns died Friday at the age of 35.
A blood clot caused the singer's death in his ankle … sources tell us he had twisted his ankle earlier and was in a great amount of pain.
People close to Johns tell us … it appears the ankle injury triggered the clot. We're told he died in his sleep.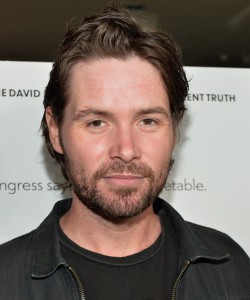 The singer placed 8th in Season 7 (2008), and following his exit from the show, he continued to record music. He recorded an album — "Hold Back My Heart," in 2009.
He'd also done a tremendous amount of charity work with former executive producer Nigel Lythgoe.
Lythgoe tells TMZ, "He was a great talent and dear friend. My boys and I are devastated."
Johns was married to Stacey Vuduris. They married in 2007.
The singer's family says, "Our family is devastated by the passing of our beloved Michael, a wonderful husband, son, brother, uncle, and friend. We appreciate the outpouring of love and support we have received from all corners of the globe."
http://www.youtube.com/watch?v=PPWg4h-ddDQ
"All you can ask for as a singer and an artist is just a chance – just a fair shot of showing America or the world that I can sing and I've got something to say," former "American Idol" contestant Michael Johns told People in 2008.
The season seven finalist died Friday at age 35. The cause of death is rumored to be a blood clot in his ankle, according to The Hollywood Reporter.
In 2008, the Australian-born Johns wowed "American Idol" judges at his audition with a rendition of Otis Redding's "I've Loved You Too Long."
Even the curmudgeonly Simon Cowell conceded that Johns had "star potential" after his performance of Queen's "We Will Rock You." Cowell was among the "Idol" judges, alums, and fans who tweeted his condolences following news of Johns's death: "I just heard the very sad news that Michael Johns has passed away. A truly great guy. Rest in peace, Michael."
"Michael Johns was an incredible talent, and the news of his passing deeply saddens us," the show said in a statement on its Facebook page. "He was a part of our AMERICAN IDOL family, and he will be truly missed. Our hearts and prayers go out to his family and friends during this difficult time."
"Our family is devastated by the passing of our beloved Michael, a wonderful husband, son, brother, uncle, and friend," Johns's family said, according to the entertainment Web sites Deadline and TMZ. "We appreciate the outpouring of love and support we have received from all corners of the globe. Please keep Michael in your thoughts and respect our need to grieve privately in this difficult time."
As a kid, Johns dreamed of being a Wimbledon champion; he told Billboard in 2008. But at age 15, he gave the idea up and chose to focus on music. However, it was tennis that brought him to the United States. He went to college on an athletic scholarship, which he saw as an opportunity to pursue a music career abroad. "I chose Abraham Baldwin Agriculture College as it was in the South, and a lot of great music was coming out of there," he said. "I knew if I went to Los Angeles or New York, I could get swallowed up."
After nine months of college, he left Tifton, Ga., to pursue music in Atlanta. Instead, he wound up working as a bartender and playing in a cover band. "It was the best way for me to learn about the South and what pushed Americans buttons," Johns told the Atlanta-Journal Constitution in 2008.
But Johns was trying to break into the business at a bad time — when the music industry was changing, and the country was on the brink of the financial crisis. So he was signed to Maverick Records as a solo artist in 2002 under the name Michael Lee.
He later changed Lee to Johns in 2006. According to People, Johns cut ties with his biological father at 15 but is close to his stepfather, who inspired his stage name. "His name is John, and he came in and not only saved my life but also my family with his positivity. There are so many qualities in that man that I can look up to," he said.
Johns formed a Rising band, but Maverick, his label, folded before his debut album "Future Unknown" made it into stores. The recordings were later released on iTunes by Warner Bros., which owned Maverick after Johns appeared on "Idol." After that, Johns told Billboard he was signed to Columbia, a major label, but was dropped along with a bunch of other developing artists.
Johns's luck changed in 2007. First, he married his girlfriend, Stacey Vuduris, a Los Angeles-based interior designer whom he'd met in 2003. Then he won a spot on "American Idol." At 29, when the show aired, Johns barely made the age cutoff.
He was optimistic about the opportunity after his rocky history with record deals. "I truly believe ["American Idol" is] the only outlet aggressively finding new talent anymore," he said at the time, according to the Atlanta-Journal Constitution.
He came in eighth place on the show and achieved modest success thereafter. In 2009, he released an album, "Hold Back My Heart," his third solo effort. It sold 20,000 copies, putting him at No. 16 on a list of top "American Idol" albums released that year. He released another album in 2012 titled "Love and Sex."