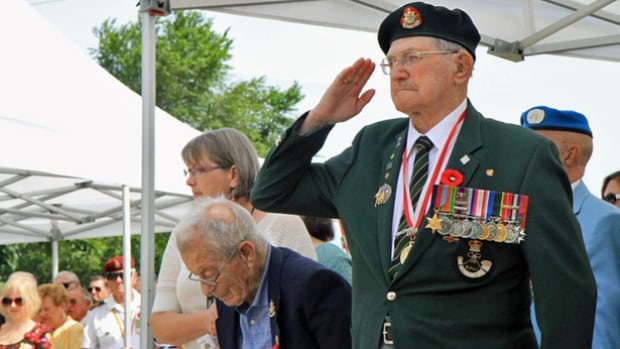 Jack McFarland, well-known Hamilton veteran's advocate who was taken prisoner in the 1942 Dieppe raid, has died at age 95.
A member of the Royal Hamilton Light Infantry (RHLI), he was wounded and captured in the Dieppe raid, becoming a prisoner of war for more than  two years before returning to his home in Hamilton.
McFarland was a private when he hit the beach at Dieppe, on the northern coast of France. Many consider it to be one of the greatest disasters in Canadian military history. It took the lives of hundreds of Canadians and wounded many more. Almost two hundred of the fallen soldiers were from Hamilton.
When he returned to Hamilton, McFarland volunteered to serve again but the war ended, prompting his next career with Hamilton Police which started in 1947. He later retired in 1981 as a staff sergeant.
The service recognized his contributions today, noting he spent his "entire life serving his country in the Canadian Armed Forces and the community as a police officer with the Hamilton Police Service."
Thanked for service
"From all of us, past and present at the Hamilton Police Service, we salute Jack McFarland for his service," said Acting Chief of Police Ken Weatherill.
Hamilton's Mayor Fred Eisenberger echoed those sentiments saying "along with my Council Colleagues and the City of Hamilton we thank Mr. McFarland for his service."
McFarland was a constant at local Dieppe ceremonies on Remembrance Day for which he was an advocate in creating a Dieppe Veterans Memorial Park on the Beach Strip. The memorial officially opened in 2003, decades after the raid.
"I think about it this week more than ever," recounted McFarland in an interview with CBC Hamilton in 2012.
"It was 70 years ago…and we've lost a lot of friends from the raids since then."
Dedication to service
Each time the Canadian flag was raised at a ceremony, McFarland saluted proudly. He was never alone, surrounded by family and friends including two other survivors who stormed the beach of Dieppe, France on Aug. 19, 1942, Fred Engelbrecht and Ken Curry.
"To see these veterans here reminds me of their dedication," said Reverend Bryan Robertson to CBC Hamilton following a Remembrance Day service.
"In spite of getting more elderly all the time, they still make the effort to come out, and people come out to support them, too."
The trio were three of the 600 Hamilton soldiers sent in the raid. It involved some 6,000 allied troops, mostly Canadians.
McFarland had been struggling with his health the past year however he still attended the 2015 Remembrance Day at Gore Park in November. He was inducted into the Hamilton Gallery of Distinction in December and celebrated his 95th birthday in January.
Credited to CBC.ca