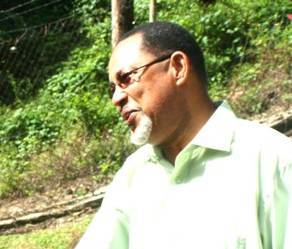 Condolences to the late Joel Huggins, who died suddenly: The Minister for Energy in Dominica, Mr. Ian Douglas, has expressed his condolences to the Managing Director of Dominica Electricity Services (DOMLEC), Mr. Joel Huggins, and his family on the death of his father, Mr. Stanley Huggins.
In a statement, Minister Douglas said that the late Mr. Huggins was "a true patriot who contributed immensely to the development of Dominica." The Minister added that the late Mr. Huggins "served Dominica with distinction in various capacities," including as a Member of Parliament and Minister of Government.
Minister Douglas said that the late Mr. Huggins "will be remembered for his commitment to the people of Dominica and his dedication to the country's development." The Minister extended his deepest sympathies to the Huggins family and called on all Dominicans to "continue to keep them in our thoughts and prayers during this difficult time."
Joel Huggins was en route to visit family and friends in his native St. Vincent on Friday, November 14th, 2008.
Mr. Huggins is remembered for his quiet and calm demeanour but clear decisiveness of action in the various exchanges and dealings between his firm and the Ministry of Public Utilities, Energy and Ports on issues relating to the electricity sector.
The Ministry maintained an open dialogue with Mr. Huggins and, at the time of his death, was in the process of writing to inform him of the establishment of a Committee by the Minister which would engage DOMLEC in discussions regarding the terms of a Power Purchase Agreement between DOMLEC and the Government to supply electricity from Government's Supplementary Power Generating Plant intended for construction at Jimmit with grant support from the Government of the Bolivarian Republic of Venezuela. Mr. Huggins had earlier, in discussions with the Minister, indicated his company's support for the Government's initiative to supplement electricity generation as this would save DOMLEC valuable investment capital.
I, Honourable Charles Savarin, Minister for Public Utilities, Energy and Ports, and the Government of the Commonwealth of Dominica, take this opportunity to convey sincere condolences to the family and friends of Mr. Joel Huggins and the Directors, Management and staff of DOMLEC.