By K.C. Blumm
Casey Kasem has died at the age of 82.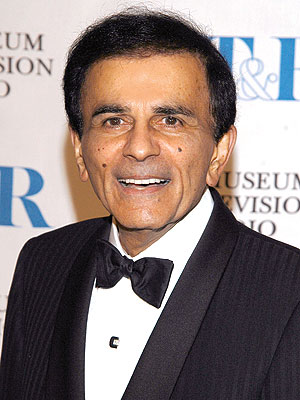 The legendary radio star and voice actor had been suffering from dementia and passed away on Sunday, according to a post on his daughter's Facebook page.
"Early this Father's Day morning, our dad Casey Kasem passed away surrounded by family and friends," Kerri Kasem wrote. "Even though we know he is in a better place and no longer suffering, we are heartbroken. Thank you for all your love, support and prayers. The world will miss Casey Kasem, an incredible talent and humanitarian; we will miss our Dad. With love, Kerri, Mike and Julie."
Kasem passed away days after a judge permitted for food and fluids to be withheld from the ailing Kasem amid an acrimonious legal battle over his care and final wishes.
Kasem, whose first name was Kemal, was best known to a generation of fans as the host of American Top 40, which he hosted for a total of 24 years, from 1970-88, and again from 1998-2004, when Ryan Seacrest took his place.
His voice was familiar to fans who tuned in weekly to hear him count down the nation's most popular songs, a tradition that he continued with Casey's Top 40, American Top 20 and American Top 10.
"Hosting various versions of my countdown program has kept me extremely busy, and I loved every minute of it," he said upon his retirement in 2009.
On Radio in High School
Kasem's radio career began when he was in high school in Detroit. In 1952, he was drafted at age 20 and sent to Korea, where he became a deejay and announcer for the Armed Forced Radio Korea Network. After his return, he worked as a deejay in San Francisco, Los Angeles, Cleveland and Buffalo, New York.
He and a friend, producer Don Bustany, came up with the idea for a countdown radio show based on the old 1940s and '50s show Your Hit Parade. It debuted on July 4, 1970, on seven radio stations and went on to be syndicated on more than 1,000 radio stations in 50 countries.
Kasem also worked as a voice-over actor and was best known as the voice of Shaggy on the Scooby-Doo cartoons, a role he first assumed in 1969. He abandoned the role in 1995 in a dispute over a Burger King commercial but returned in 2002 when it was agreed that Shaggy would be a vegetarian, as he was.
The man nicknamed Mr. Radio also acted in movies, including The Girls from Thunder Strip and The Incredible Two-Headed Transplant, and appeared as himself in Ghostbusters.
Kasem had three children – Kerri, Mike and Julie – with his first wife, singer and actress Linda Myers, whom he divorced in 1979. He also had a daughter, Liberty, with his second wife, Jean.
In early October, his three oldest kids and his brother, Mouner, claimed that Jean was keeping them from seeing Kasem, who had been diagnosed with Parkinson's disease in 2006 and was unable to walk unassisted and had trouble speaking.
More than a dozen of his closest friends held a protest outside his 2.4-acre estate in L.A., demanding that Jean allow them access to Kasem.
A week later, his children filed papers in L.A. Superior Court requesting a conservatorship over their father's health care.
"When he was healthy, our dad used to talk to us all the time. We're his joy," Kerri told PEOPLE. "Now we've been cut off from him. The same goes for many of his friends. We just want to know that our dad is okay."
In December, Jean came to a visitation agreement with Mike and Kerri. But in May, she removed her husband from a Santa Monica facility, bringing him to Washington state without notifying his family and leading his children to file a missing-person report.
Authorities later found Kasem in Washington state, but his ailing health led to hospitalization.
As hundreds of thousands across the world take a moment to remember the voice they grew up listening to, they'll no doubt also remember his sign-off message: "Keep your feet on the ground, and keep reaching for the stars."
https://www.youtube.com/watch?v=FBBtTt-Hu5c