Meara was born in Brooklyn, New York, the daughter of parents of Irish descent, Mary (née Dempsey) and Edward Joseph Meara, a lawyer. Meara was raised as a member of the Catholic Church, and converted to Reform Judaism six years after marrying Jerry Stiller. She has long stressed that she did not convert at Stiller's request, but because "Catholicism was dead to me." She took the conversion seriously and studied the faith in such depth that her Jewish-born husband quipped, "Being married to Anne has made me more Jewish.
Meara has written about her mother's death and her childhood experiences at Catholic boarding school. Meara died on May 23, 2015.
Actress and comedienne Anne Meara has died at the age of 85.
The Brooklyn native was the wife of 87-year-old actor Jerry Stiller, who she often performed with on TV and on stage. The two were married for 61 years. She was was also the mother of 49-year-old movie star Ben Stiller.
The King Of Queens guest star passed away on Saturday from natural causes, according to The Associated Press.
'The Stiller family is deeply saddened to share the beloved Anne Meara passed away last night at the age of 85,' a statement from the family read.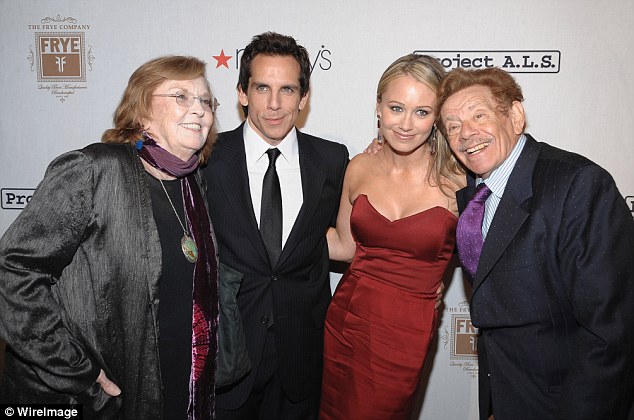 'She is survived by her husband and partner in life Jerry Stiller.
'The two were married for 61 years and worked together almost as long. Anne's memory lives on in the hearts of daughter Amy, son Ben, her grandchildren, her extended family and friends, and the millions she entertained as an actress, writer and comedienne.'
The couple performed as Stiller & Meara on The Ed Sullivan Show and other programs in the 1960s.
Meara also appeared in dozens of films and TV shows, including recurring roles on All My Children and The King of Queens.
On Sunday King Of Queens co-star Leah Remini shared a black-and-white vintage portrait of Anne on Instagram with the note, 'Rest In Peace Anne Meara. Thank you for the laughs on and off the screen of The king Of Queens Your kind of Chutzpah will be greatly missed. It was an honor to know you. Our thoughts and prayers to her family. #GreatTalent #GreatWoman #StillerAndMeara.'
Anne also had a daughter, Amy, and several grandchildren.
The star married Jerry in 1954 and they immediately started working together in improvisational theater.
The couple used their real-life experiences in their comedy routines and became a favorite on The Ed Sullivan Show.
In the Seventies she appeared on the hit TV series Rhoda and then Kate McShane.
During the Eighties she stood out on Archie Bunker's Place and then the film Fame.
Her career picked up when she landed the role of Mary Brady in Sex And The City opposite Sarah Jessica Parker and Cynthia Nixon. The HBO series ran from 1998 to 2004.
In 2001 she popped up in son Ben's comedy Zoolander. It is not known if she was expected to make an appearance in the sequel, which has been filming this year in Europe.
For the past several weeks Ben has been in Italy wrapping up production. He was last seen on May 17 at the tennis finals between Novak Djokovic and Roger Federer during the Rome Open.
In 2006 she also worked with Ben on Night At The Museum.
Her last TV credit was a 2012 episode of Law & Order: Special Victims Unit, in which she played Irene Kerns.
On Sunday afternoon the condolences poured in.
In addition to Remini's, Rosie O'Donnell shared a throwback photo of the star with the comment, 'With a heavy heart – she was so real.'
Steve Martin said that Stiller and Meara were a 'wonderful presence in comedy' his whole life and he saluted her.
Oscar winner Marlee Matlin added she was sorry to read about Anne's passing and offered condolences to Ben and Jerry.
Natasha Lyonne shared a photo of Anne from TV's Love American Style with the caption, 'The world lost a great one. Anne Meara, thank you for always being so hilarious & so much fun to go swimming with.'
Anne Meara King Of Queens – September 20, 1929 – May 23, 2015
Anne Meara – Wikipedia, the free encyclopedia
Anne Meara was an American actress and comedienne. … recurring roles on the television shows Sex and the City (as Mary Brady) and The King of Queens (as Veronica). …. Meara, Anne (June 8, 2009).