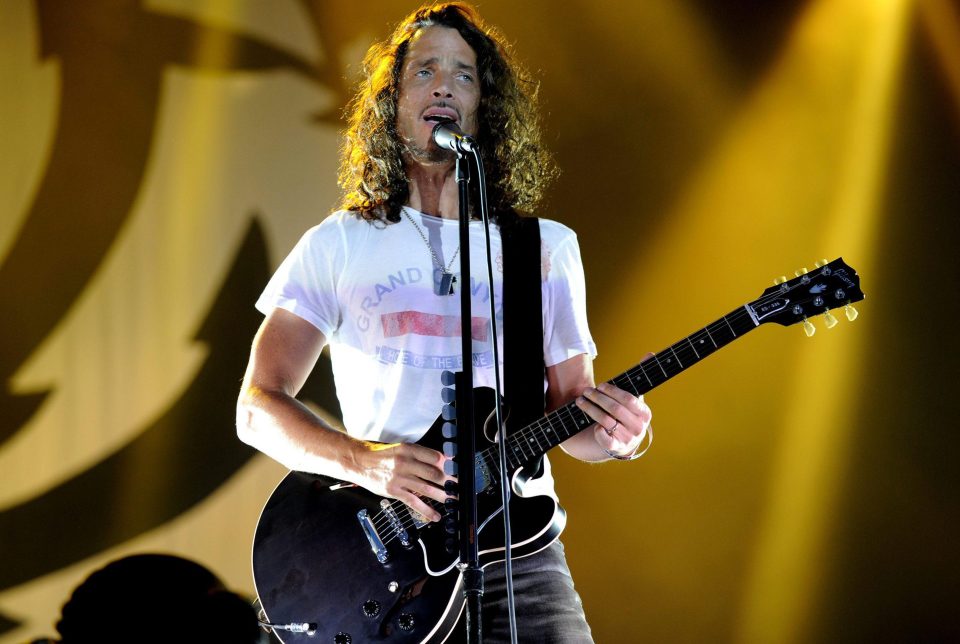 American rock star Chris Cornell, the lead singer of Soundgarden and Audioslave, has died at the age of 52 after he was found hanged.
The death of the Black Hole Sun singer was confirmed by a representative last night and cops are treating it as a suspected suicide.
Chris Cornell, Soundgarden and Audioslave frontman has died aged 52, here he is seen pictured with his wife Vicky Karayiannis and his kids Christopher and Toni Cornell
The Wayne County Medical Examiner's Office said today it finished the preliminary autopsy on Cornell, but that "a full autopsy report has not yet been completed".
[youtube https://www.youtube.com/watch?v=W5oH1uMCybA]
A police spokesman told two Detroit newspapers that the singer was found hanged.
"There is no additional information at this time," the Wayne County office added.
Local media say that the singer returned to the MGM Grand hotel following the performance.
Channel 4 WDIV Detroit reports Cornell's wife Vicky called a family friend and asked him to check on her husband.
The friend then forced open the rocker's hotel room door and found him lifeless in the en suite bathroom.
According to the BBC the cops received a call shortly after midnight, local time.
A spokesman said: "He was found on the bathroom floor, our medical unit were called and he was pronounced dead on scene.
"A family friend went to go check on him and observed him on the bathroom floor.
"The body was transferred to the medical examiner's office and the cause of death will be determined.
Detroit police spokesman Michael Woody told Associated Press there were "basic things observed at the scene".
In an eerie twist of fate it appears the final song Cornell performed heavily referenced death.
According to the setlist, which was posted online by fans, the final song of the performance was the 1991 classic Slaves And Bulldozers.
But the live version the band had taken to performing midway through contains a refrain from the death fixated gospel song In My Time Of Dying, which was famously covered by Led Zeppelin.
The songs lyrics contain the phrase: "In my time of dying, I want nobody to mourn. All I want for you to do is take my body home. Well, well, well, so I can die easy."
He also updated his Facebook page mere hours before he was found dead to a song Soundgarden released in 2012 called By Crooked Steps.
Along with the clip he posted the lyrics, which now resonate with a renewed poignancy, "I'm the shape of the hole inside your heart."
Many will read into these final public acts which appear to be loaded with symbolism of death as police investigate.
Brian Bumbery said the singer died on Wednesday night in Detroit, shortly after a performance in the city.
He said: "His wife Vicky and family were shocked to learn of his sudden and unexpected passing.
"They would like to thank his fans for their continuous love and loyalty and ask that their privacy be respected at this time."
Fans who watched him with the re-formed Soundgarden last night have tweeted a mixture of praise and disbelief at the news the rocker has died.
Shelly Bastian posted a picture of Cornell on stage with the message: "You rocked Detroit Rock City."
Gary Graham tweeted: "Friend posted photo of Soundgarden in Detroit just a few hours ago. Sad to see you go Chris."
Celebrities and other fans around the world have also expressed their grief and shock at the sudden death of the rock legend.
The statement added that the family would be working with a medical examiner to determine the cause and asked for privacy.
Dad-of-three Cornell had been due to play at US festival Rock the Range in Columbus, Ohio tonight.
He was born Christopher John Boyle in 1964 in the city that would come to be known as the home of grunge, Seattle, Washington.
The middle child of five siblings, two older brothers and two younger sisters, Cornell spent the ages of nine to 11 solidly listening to the Beatles.
A loner in his teenage years he dropped out of school due to depression before joining cover band The Shemps with two future founding members of the band with which he would fist make his name, Soundgarden.
The grunge band formed in 1984 with Cornell as frontman backed up by Hiro Yamamoto and Kim Thayill and eventually joined by Matt Cameron on drums.
Ben Shepherd would eventually replace Yamamoto on bass guitar in 1990 when the group would rocket to stardom.
With his powerful, nearly four-octave vocal range, Soundgarden, would emerged as one of the biggest bands out of Seattle's emerging music scene, joining the likes of Nirvana, Pearl Jam and Alice in Chains.
Their third studio album, "Badmotorfinger" in 1991 spawned enormously popular singles "Jesus Christ Pose," "Rusty Cage" and "Outshined" that received regular play on alternative rock radio stations.
Three years later, Soundgarden broke through on mainstream radio with the album "Superunknown," which debuted at No. 1 on the Billboard 200 and was nominated for a Grammy for Best Rock Record in 1995.
It included hit singles "Spoonman," "Fell on Black Days," "Black Hole Sun," "My Wave" and "The Day I Tried to Live."
The band eventually split in 1997 as Thayill and Cornell clashed over the musical direction of the group and they eventually disbanded in April of that year.
In 1998 he would embark on a solo career that would eventually see him sing the theme tune for the first Daniel Craig James Bond film, Casino Royale.
Cornell would compose and perform the song "You Know My Name" which was only the second song not to have the same title as the movie and the first theme performed by an American man.
In tandem with his successful solo career, which would see him release five studio albums, he also formed the supergroup Audioslave.
That would see the unification of two of the biggest rock bands of the nineties, Cornell's Soundgarden and Rage Against The Machine.
After Rage's frontman Zach de la Rocha left the band they were searching for a new singer and found Cornell in 2001 who would shelve his second album plans to form the band.
Their self titled debut album would spawn such hits as Cochise, Like A Stone and Show Me How To Live and would go triple platinum in the USA.
The band would remain together until 2007 when Cornell left due to "irresolvable personality conflicts and musical differences".
Soundgarden would eventually reform and tour together again in 2010 and reportedly had plans for a seventh album.
Audioslave reunited for the first time in January this year at the Prophets of Rage Anti-Inaugural Ball, protesting Donald Trump's presidency.
In his personal life he would first marry Soundgarden and Alice In Chains manager Susan Silver in 1990.
The couple would have one daughter, Lillian James Cornell, together in June 2000.
Cornell and Silver would eventually divorce in 2004 and later that year he would marry publicist Vicky Karayiannis, an American living in France.
That same year the newlyweds would have a daughter, Toni and later in 2005 a son called Christopher Nicholas.
The relationship would also see Cornell convert to Greek Orthodox Christianity under his new wife's influence.
In 2012 Cornell spoke about kicking alcohol. He said: "There are not bottles of Jack Daniels around or beers."
He added: "You have top want it, and not do that c*** anymore or you will never stop and it will just kill you."
Cornell said of his descent that "it was a long slow slide and then a long slow recovery," adding, "for me it was mostly alcohol from my late teens until my late thirties."
In addition to his music, Cornell also became involved in philanthropy and started the Chris and Vicky Cornell Foundation to support children facing challenges, including homelessness, poverty, abuse and neglect.
We've lost a true rock legend today. For rock fans this is huge. His voice was miles better than Vedder's or Cobains and instantly recognisable.
It's so weird that he would take his own life hours after playing a gig where he seemed fine. Granted, I know nothing about depression but I wonder if there's more to this "misadventure" or something to be polite!
I saw him play a venue way smaller than he should have played in Bristol just over 12 months ago. I've been to many gigs but he absolutely blew me away. It was honestly one of the best gigs I've ever been to.
Really really sad, thoughts with his poor poor kids who go to bed tonight without a father.