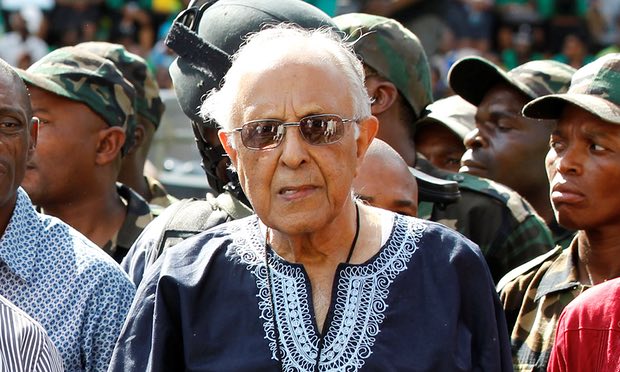 The South African anti-apartheid activist Ahmed Kathrada, one of Nelson Mandela's closest colleagues in the struggle against white rule and a fellow Robben Island prisoner, has died aged 87.
Kathrada, who was affectionately known by his nickname Kathy, was among those jailed alongside Mandela after the Rivonia trial in 1964. The case drew worldwide attention and highlighted the brutal legal system under the apartheid regime.
He died in hospital in Johannesburg following a short illness after brain surgery.
Kathrada spent 26 years and three months in prison, 18 of which were on Robben Island. After the end of apartheid, he served from 1994-99 as parliamentary counsellor to President Mandela in the first African National Congress (ANC) government.
In recent years he was highly critical of President Jacob Zuma and the ANC government. Nevertheless, the ANC said South Africa had "lost a titan". "His life is a lesson in humility, tolerance, resilience and a steadfast commitment to principle," it said in a statement.
[youtube https://www.youtube.com/watch?v=dsLvE8UEt54]