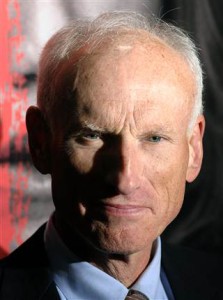 James Rebhorn, the busy character actor who played the father of Claire Danes' troubled CIA officer Carrie Mathison on the Showtime drama "Homeland," has died. He passed away at his home on Friday, his agent Dianne Busch confirmed to The Hollywood Reporter. He was 65.
Rebhorn also had a recent recurring role on the USA Network hit "White Collar" as Special Agent Reese Hughes, head of the FBI's Manhattan white-collar crime unit.
During his prolific five-decade career, the Philadelphia native also was memorable as the district attorney that sent Jerry, Elaine, George, and Kramer to jail on the "Seinfeld" finale in 1998 and as the prosecution's FBI expert automotive witness in the hilarious film "My Cousin Vinny" (1992). He also had stints as attorneys on the David E. Kelley shows "The Practice" and "Boston Legal" and recurring roles on "Third Watch," "The Book of Daniel," "Law & Order," and "Big Lake."
Rebhorn played the school's headmaster, Mr. Trask, in "Scent of a Woman" (1992) and was President Signoff in "The Adventures of Rocky & Bullwinkle" (2000).