Veteran Grenada journalist died Sunday December 21st, 2014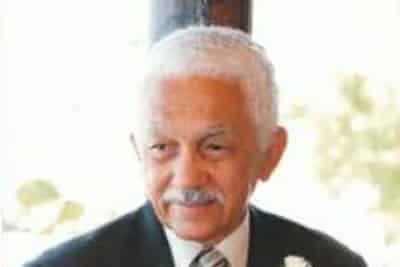 ST. GEORGE'S, Grenada, Monday December 22, 2014, CMC – Prime Minister Dr. Keith Mitchell led the tribute to veteran journalist Leslie Pierre, who died at the General Hospital here on Sunday night. He was 86.
Mitchell described Pierre, who was jailed in the early 1980s because he dared to defend the right for there to be a free press in Grenada, as a "Grenadian media icon, journalistic giant, and indeed a true Grenadian patriot.
"For many years, Mr. Pierre had been the virtual conscience of a nation through his advocacy and his willingness to speak truth to power, especially through his 'Personally Speaking' newspaper column," Mitchell said, noting that Pierre paid a tough price for his belief in a free media, spending nearly three years in prison because he stood up for those principles.
"He never harbored bitterness for his "detention"; but instead, when he was eventually freed, turned the Grenadian Voice into one of the most respected publications in our post independence era.
"His continuous quest for excellence; his uncompromising attitude to balanced and responsible reporting; his dogged determination and strength of convictions, are elements of his life we can all emulate," Mitchell added.
Pierre, the publisher of the Grenada Voice newspaper, died following a stroke and the Media Workers Association of Grenada (MWAG) described him as "a stalwart defender of a free and open media in Grenada".
MWAG said Pierre, who was also one of the founders of Press Association of Grenada, the forerunner to MWAG, said when the history of modern day Grenadian journalism is written, "there will be many chapters on the contribution of Mr. Pierre…because he dared to defend the right for there to be a free press in Grenada.
"Through the years he has been a mentor to many local journalists; and an inspiration to us all.
The media in Grenada is all better because this editor, writer, commentator and stickler for excellence in reporting, passed this way."
Prime Minister Mitchell said "Pierre had set high standards; and the legacy of that must be the eternal flame that will shine on a new era of Grenadian journalism that will consistently and uncompromisingly speak to both balance and fairness".

Veteran Grenada journalist died