Civil rights Julian Bond dead at age 75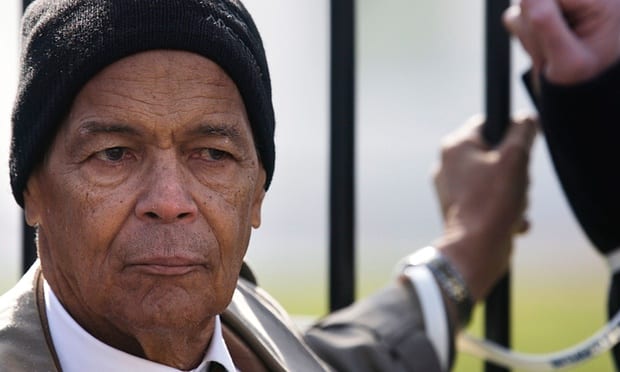 Julian Bond, a civil rights activist and longtime board chairman of the NAACP, died Saturday night, according to the Southern Poverty Law Center.
Bond died in Fort Walton Beach, Florida after a brief illness, the SPLC said in a statement released Sunday morning.
The Nashville, Tenn. native was considered a symbol and icon of the 1960s civil rights movement. As a Morehouse College student, Bond helped found the Student Non-Violent Coordinating Committee and as its communications director, he was on the front lines of protests that led to the nation's landmark civil rights laws.
Bond later served as board chairman of the 500,000-member NAACP for 10 years but declined to run again for another one-year term in 2010.
The SPLC said Bond was a "visionary" and "tireless champion" for civil and human rights.
"With Julian's passing, the country has lost one of its most passionate and eloquent voices for the cause of justice," SPLC co-founder Morris Dees said in a statement. "He advocated not just for African Americans, but for every group, indeed every person subject to oppression and discrimination, because he recognized the common humanity in us all."
Bond also served in the Georgia state legislature and was a professor at American University and the University of Virginia.
Bond recently returned to the news upon release of the movie "Selma," about the historic voting rights march in Alabama. He organized protests in Selma at the time, and was asked recently about the relationship between Dr. Martin Luther King and President Lyndon Johnson, which was portrayed as slightly adversarial in the film.
Bond, who often worked with King, praised the movie, but thinks LBJ did not deserve to be treated as a villain.
"He did support King's fight for voting rights. He probably is the best civil rights president America has ever had. The best. Absolute best," Bond said. "I think the movie people wanted Dr. King to have an antagonist. Why not have it be LBJ?"
In a 2007 interview with CBS News, Bond said the greatest triumphs of the Civil Rights movement were the passage of the '64 Civil Rights Act and the '65 Voting Rights Act.
"These two laws codified important demands of the then civil rights movement – access to public facilities and access to the franchise," he said.
Julian is survived by his wife, Pamela Horowitz, a former SPLC staff attorney; his five children, Phyllis Jane Bond-McMillan, Horace Mann Bond II, Michael Julian Bond, Jeffrey Alvin Bond, and Julia Louise Bond; his brother, James Bond; and his sister, Jane Bond Moore.
Source: http://www.cbsnews.com
[youtube https://www.youtube.com/watch?v=pdG8BaEz1ec]
Obituaries – U.S. Civil rights Julian Bond
Bond's fame also brought him attention from Hollywood. He hosted Saturday Night Live in 1977, the show's second season, and had a small role in Greased Lighting. In 2014, Bond wrote a column for The Hollywood Reporter about how a famous skit he did with Garrett Morris about light-skinned versus dark-skinned African-Americans made him uncomfortable.
He was also in demand as a narrator. He was the voice of the award-winning documentary series about the civil rights movement, Eyes on the Prize, and anchored the syndicated news program America's Black Forum from 1980-97.
https://www.youtube.com/watch?v=pbdJeY3pFR8