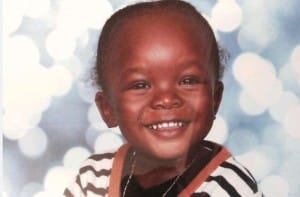 The mother of three-year-old Elijah Marsh, who died after wandering out of his Toronto home in sub-zero temperatures, has thanked Canadians for their "outpouring of love" during this difficult time. In a statement released through the Toronto Police Service, Marsh's mother, Dajanae, said her son was "the happiest little boy," and she is struggling to cope with his death.
"I would like to thank everyone for their kind words, thoughts and prayers," she said. "It is truly appreciated and helps me get through each day." Marsh's death sparked an outpouring of grief in Toronto, with many people leaving teddy bears, flowers and cards at a makeshift memorial near his home. A GoFundMe page to help the family with funeral expenses has raised more than $100,000. "I want to thank everyone who has contributed to the GoFundMe page," Dajanae said.
"Your generosity is overwhelming and will help us immensely." She added that she is "forever grateful" for the community's support during this difficult time.
According to CBCNEWS, people have supported Elijah's family through the crowdfunding campaign, which has raised more than $158,000 and placed tributes to the boy at a makeshift memorial in north Toronto. The person who started the crowdfunding campaign for Elijah's funeral costs, Justin Kozuch, told news reporters that he was in contact with a close friend of Elijah's mother.
Mayor attends vigil

About 30 people, including Toronto Mayor John Tory, attended a vigil in the snow on Saturday outside the apartment building where the boy walked away.
Tory said he attended "just to ensure this family knows that we're all with them in their hour of need and grief."
The group sang hymns, including Amazing Grace, under steady snowfall that began to cover the makeshift memorial of teddy bears, candles and flowers.
The crowd comprised friends, neighbours and strangers, including one man from Manitoba. Another man didn't wear a coat, in tribute to the cold Elijah would have felt in his final hours.
Maria Caponigro brought her three-year-old son to the same preschool as Elijah.
"We just told him that Elijah will not be coming to see your preschool room now and that he's now with the angels," she said.
Elijah was found without vital signs just a few hundred metres from the apartment building where he was staying with family and was pronounced dead a few hours later in the hospital.
Elijah was seen on video-camera footage leaving the building at about 4 a.m. in extremely cold weather. He was wearing a T-shirt, diaper and boots.
Kozuch said he's grateful for the success of the crowdfunding.
"This could have been my child," he said. "This could have been a friend's child. This could have been anybody's child, and I think that's why this story has touched so many people, and that's why we've seen the support that we've seen," he said on CBC News Network.
"As parents, we go to the ends of the Earth to protect our children, and we'll do anything to keep them safe," said Kozuch, who has a son the same age as Elijah.
Kozuch said his goal was to raise $20,000 when he started the campaign on Thursday.
Tilt.com is waiving all credit card fees for those who contribute.
"One person remarked on Twitter yesterday, 'Cold faces, warm hearts,' and I feel that encapsulates the reaction we've all seen from this story that touched so many people."
Kozuch said that all of the money, no matter how much is raised, will go to the family.
Some contributors shared their thoughts after donating.
"This broke my heart," said Jennifer Yearwood. "It's the least I could do for that sweet little boy, Elijah."
"The generosity of people in times of such great loss and tragedy is heartwarming," said Dawn MacDonald. "God bless Elijah. You are now with the angel's dear little man."
Mike Colle, the MPP for the area where Elijah was found, said he was taking food and coffee to the boy's
family Friday afternoon.
Colle said he had contacted the local school trustee, and the wheels are in motion to have Elijah's nearby daycare renamed after the boy.
"We can grieve, we can help with the funeral, we can do all this, but at least let's try and make a bit of a positive thing out of here," Colle said.
Three-year-old Elijah Marsh died on frigid Toronto night
https://www.youtube.com/watch?v=WSl-3jJ7xi8
Thousands raised for Toronto boy's funeral – Niagara This Week
One day ago … TORONTO – While the family of a Toronto toddler who died after spending hours in the frigid cold was making a funeral … The arrest came a day after three-year-old Elijah Marsh died after … a.m., said they had put him to bed Wednesday night and woke up to find him gone and the front door open, police said.